Donald Trump names Reince Priebus chief of staff and Steve Bannon as counselor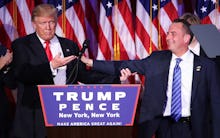 Republican President-elect Donald Trump made one of the most significant initial choices regarding the composition of his future presidential administration on Sunday, choosing Republican National Committee chairman Reince Priebus as his future chief of staff and appointing former Breitbart chief executive Stephen Bannon as special counselor.
Priebus, who remained largely neutral during the primary process despite Trump's harsh criticism of him but later proved his worth to the candidate by managing an impressive electoral machine in the general, was opposed by Trump loyalists. Bannon, whose tenure at Breitbart saw the site take on an increasingly hostile and openly racial tone, is much more conservative and sometimes considered a loose cannon.
Bannon's role will be tantamount to chief strategist, according to the Guardian.
The White House chief of staff is one of the most senior positions in any presidential administration, and supervises the White House staff as well as controls access and the flow of information to and from the president.
The appointment of Priebus may signal Trump is more open to acquiescence with the Republican establishment which initially rejected his rise than the candidate sought to portray on the campaign trail. 
By choosing an experienced party leader to guide him through the first years of his administration, Trump may also hope to offset skepticism from other Republicans opposed to his election. It may also be an acknowledgement Trump, who has never served in elected office, could be hard-pressed to navigate D.C. on his own.