Who is Reince Priebus? 5 things to know about Trump's White House chief of staff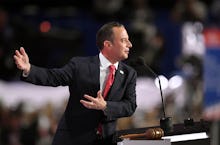 On Sunday, President-elect Donald Trump selected Republican National Committee Chairman Reince Priebus to serve as his first White House chief of staff.
Priebus' new job will involve structuring the White House staff, running its day-to-day operations and controlling access to and the schedule of the president. As such, the role essentially means the head of Trump's party will now be serving as the president-elect's guide to D.C. — from how to build his administration to navigating the capitol's labyrinthine political culture.
Here's some things to know about Priebus.
1. He's a loyal party functionary and friend to fellow Wisconsin politician Speaker of the House Paul Ryan.
Priebus went from being a legal partner in Green Bay, Wisconsin, to an unsuccessful 2004 state senate bid, then later election in 2007 as the state party chairman. He later served as general counsel to former national party chairman Michael Steele in 2009, and then as the party's chairman in 2011.
During his tenure in Wisconsin, Priebus was widely noticed for his ability to work with the Tea Party. He also helped popularize two fellow Wisconsin conservatives, Gov. Scott Walker and Speaker of the House Paul Ryan.
2. Preibus failed to pivot the party before this election.
In 2013, Priebus announced the results of the Growth and Opportunity Report, which diagnosed the party's 2012 defeat in nominee Mitt Romney as related to its low diversity and lack of outreach to minorities and women, and asked the party to take up effective immigration reform.
As Politico noted, Priebus also streamlined the party's primary process, which may have resulted in the party nominating Trump, a candidate seemingly in direct opposition to those goals.
Trump launched his campaign with vociferous criticism of the national party leadership, and at times directly accused the RNC of undermining his candidacy. He also ran an incendiary campaign that exploited racial tensions and trafficked in misinformation and bigotry, seemingly damaging the party's image among women and minorities.
3. But Priebus still helped Trump get elected.
As it became clear Trump would become the Republican nominee, as Politico wrote, Priebus became an important adviser to the candidate in private, even as the real estate mogul continued to rail against him in public. Priebus both worked to convince skeptical Republican leaders of their party's choice of nominee as well as attempt to steer it to victory. He sought to dissuade defections, even as the candidate weathered major scandals such as the release of a 2005 videotape showing Trump apparently bragging about sexually assaulting women.
Perhaps more importantly, the GOP's eventual 2016 victory relied upon a robust party get-out-the-vote operation "consisting of 315 field offices staffed by 7,600 paid employees and fellows who knocked on 24 million doors and logged 26 million phone calls," Politico wrote. Trump might have proven his particular brand of politics holds sway with a significant portion of the voting public, but Priebus covered his flanks by providing much of the Election Day infrastructure necessary to win.
4. Priebus beat out Stephen Bannon, former chairman of right-wing news site Breitbart, for the job.
Another contender for the chief of staff position, Stephen Bannon, will instead fulfill the job of "chief strategist and senior counselor." Bannon was formerly the executive chairman of right-wing news site Breitbart, and under his tenure the site began taking on a more hostile and openly racial tone.
While Bannon will remain a significant figure in the forthcoming Trump White House, Priebus will outrank him unless Trump really does plan on shaking up how things work there.
5. It's unclear what this means for the future of the Trump presidency.
Priebus may serve as an adroit guide for the the nascent Trump administration as it attempts to navigate D.C.'s labyrinthine political culture and manage its many, complicated institutions, and his transition from party chairman to senior White House official is doubtless intended to promote Trump-GOP cohesion in the months and years ahead. Moreover, Priebus' relationship with key party officials like Ryan may help the future President Trump play along with the Republican-controlled federal legislature.
However, some observers were not sure if the move was intended to help the Republican Party reign in the Trump presidency from its bellicose campaign rhetoric, or whether Priebus was ultimately surrendering the will of the party to Trump.