How immigration laws could change under a Donald Trump presidency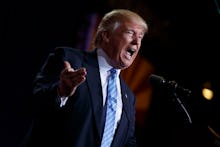 Donald Trump made a lot of promises on the campaign trail, some to many of which may prove hollow. It's impossible at present to tell. But hazy as our national outlook is, one conclusion seems inescapable: Undocumented immigrants have cause for urgent concern. 
"This election is our last chance to secure the border, stop illegal immigration and reform our laws to make your life better," the president-elect said at a Phoenix rally in late August, CNN reported. Undocumented immigrants, he said, would receive "no amnesty." 
Since his election, that rhetoric has softened somewhat, as Trump faces the reality of his new job. Even as Trump vacillates, though, he's appointing a transition team that's openly hostile to immigration and immigrants. Here's what we can expect of immigration law in Trump's America:
Building a wall that will partly be a fence
In a 60 Minutes interview aired Sunday, Trump explained the hypothetical Mexico-built and -funded border wall that's been a cornerstone of his campaign. Having realized, perhaps, the difficulty in building a 30-to-65-foot-tall and nearly 2,000-mile-long wall would be commensurate to its hulking scale, Trump admitted fencing would be a more realistic option for stretches of the border. 
"But certain areas, a wall is more appropriate," Trump said. "I'm very good at this, it's called construction."
"It could be some fencing," he continued.
Lengths of fencing already exist along the United States' border with Mexico, but finishing the "wall" has long been a "legal and logistical nightmare," in the Associated Press' words, and also prohibitively expensive. Trump has vowed to finish it, so we'll have to wait and see what that actually means.
Deporting those "bad hombres"
After breaking the news about the wall during his 60 Minutes interview, Trump clarified he would still be deporting and/or incarcerating 2 to 3 million undocumented immigrants. These will be people who "have criminal records," he explained.
It's a shift from his previous declaration that he'd be deporting all undocumented immigrants — roughly 11 million people — and it came coupled with his statement that the "terrific people" in that camp would receive determinations on their status only after the border was secured. 
Speaker of the House Paul Ryan doubled down on Trump's backtracking. "We are not planning on erecting a deportation force," Ryan told CNN on Sunday. "Donald Trump's not planning on that."
Turning away Muslims and refugees
President Barack Obama had plans to increase the number of refugees the U.S. will accept to 110,000 in fiscal year 2017. It's reasonable to assume Trump won't be doing that. As USA Today reported, the president is not required to take in any refugees at all, and can decide who gets to come in and who does not. 
The president-elect has been clear that he would like to institute "a total and complete shutdown" on Muslims seeking entry to the U.S. He has since walked back the proposed moratorium, instead floating the idea of "extreme vetting," which would discount anyone fleeing a country with a history of terrorism. 
All refugees are subject to thorough background checks, and additional scrutiny is applied to those coming from Syria. But it doesn't matter if the framework is already in place to vet refugees — if Trump wants to ban them, if he wants to ban Muslims, the truth is he can. 
Remove protections for immigrants already in the U.S.
With his executive actions on Deferred Action for Childhood Arrivals and Deferred Action for Parents of Americans and Lawful Permanent Residents programs, Obama protected the status of hundreds of thousands of immigrants, allowing them to live and work temporarily in the U.S. DACA, for example, shields from deportation about 800,000 people who came to the country as children, according to the New York Times.
Unfortunately, these protections are far from secure: Former Homeland Security Secretary Janet Napolitano implemented DACA in a 2012 policy memo, while DAPA came from a 2014 Homeland Security memo. Trump could simply cancel the extensions on his first day in office. Indeed, the immigration platform detailed on Trump's site vows his administration will "immediately terminate President Obama's two illegal executive amnesties."  
More immigration officials and ICE agents
Trump's immigration page also mentions plans to "triple the number of ICE agents" — Immigration and Customs Enforcement. According to USA Today, he would need an OK from Congress to hire more Border Patrol and ICE agents, but would not need to divert any extra funds to adjust the assignments of immigration officials already on the government's payroll. 
As Vox pointed out, George W. Bush used 287 (g) agreements to mobilize police to uphold federal immigration laws on a local level, authorizing them to arrest people they suspected, often on the basis of appearance, to be undocumented. Such policies ended in rampant racial profiling. Since Trump has appointed to his transition team an avid proponent of this policy — Kansas Secretary of State Kris Kobach — we can expect local law enforcement will once again be vested with policing immigration policy. 
We can probably also expect the return of workplace raids, wherein ICE officials arrested and deported undocumented workers en masse during the more recent Bush administration, according to Vox. 
These are really just a handful of possibilities for Trump's immigration policies — the only consistent thing about the president-elect is that he waffles and reverses on nearly every statement he makes.