Orlando Pride, 5 months after the Pulse Shooting, celebrates life without fear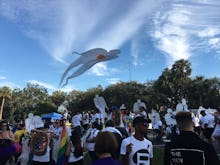 ORLANDO, Fla. — Only four days had passed since Donald Trump snatched Florida's 29 electoral votes and cinched the presidency. But that wasn't the only trauma that hung in the air during Orlando, Florida's LGBTQ pride celebration over the weekend.
Five weeks ago, Orlando endured Hurricane Matthew, which brought winds gusting up to 75 miles per hour through Florida. The hurricane also delayed the pride celebration, which was originally scheduled for October 8. And five months ago to the day, the death of 49 clubgoers at Pulse nightclub shook the local and national LGBTQ and Latino communities. Despite all this, Orlando's pride celebration, formally titled Come Out With Pride, marched on Saturday.
The main event of Come Out With Pride, which ran formally from Thursday through Sunday, centered around Lake Eola in downtown Orlando on Saturday afternoon. The night prior, Lake Eola played host to thousands of anti-Trump protesters who came out to spread love and denounce hate.
On Saturday, a vibrant city of tents and rainbow flags lined the lake's almost mile-long circumference. Early estimates say 150,000 people attended the celebration —just two years ago, the festival drew 135,000 people. The number of groups participating in the parade rose from 111 in 2015 to 147 this year. Together, those gathered shouldered a collective burden: How do you celebrate an already-rescheduled pride while also remembering those lost during the deadliest mass shooting in modern U.S. history, only 1.7 miles away?
Neema Bahrami, the entertainment manager at Pulse, met with Mic prior to the parade and said he felt it was "meant to be" that the parade was rescheduled to be on the five month anniversary.
"I kind of feel like it's meant to celebrate their lives," he said. Bahrami was wearing a Pulse shirt a few blocks away from the parade route, readying the lush, tree-filled backyard of the Veranda for an after-party dedicated to Pulse, which the city of Orlando will soon buy and turn into a memorial. As he sits down, he has to take a call to deal with a crisis for one of the day's booked guests and has to leave to carry some heavy boxes.
"I think it's really about all of us celebrating ourselves. Orlando had one of the biggest tragedies happen to it. So, we're not going to let them be forgotten, but we're here to celebrate who we are, where we came from and how proud we are."
In the months following the Pulse nightclub shooting, Bahrami toured the nation to attend pride celebrations in major cities, many of which happened during June. Now, months later, when the tragedy makes fewer headlines, he gets to honor the lives of those who were lost in his hometown. Rather than playing ambassador to other cities, he coordinates grief in his own.
The parade kicked off at 4 p.m. with 49 white angels decorated with the names of the 49 victims written across the angels' wingspans. Family members of the deceased hold the kite-like angels aloft and the wind catches them — the angelic kites soar and flap in the wind. Along the parade route, thousands gathered to wave to those on the Pulse club float, which was populated by Pulse employees, including drag queens who performed at the venue.
"I think it's our duty to come out. This city has been through so much. We're a stronger community because of what happened, and we're going to continue to be a stronger community and we're going to get through it together," said another attendee, Billy Jo Clark. "It's something that's never going to go away. It's something that weighs heavy on everyone's heart."
As the Pulse float passed onlookers, people grabbed their loved ones, shouted affirmations at the passing float — and sobbed. But the Pulse float wasn't the only place that carried the memories of the lives lost on that horrific night. People donned the logo or slogans like #OnePulse or #OrlandoUnited on t-shirts and wristbands like badges of honor — to show that they were part of a community that had survived the tragedy together.
"I think Pulse is definitely on people's minds," Val Rodriguez, an attendee at the parade, said. "I think people came out because of that. I think people are because they know that it's a way to show support. It's a way to remember what happened as a result of hate. This is a call to action."
The shooting at Pulse affected not only Orlando's LGBTQ community, but also its Latino community. It's hard to find a queer Latino person at Orlando's pride celebration who doesn't have an intimate connection to the tragedy. They've all experienced great loss, and the celebratory spaces they created that night attempted to fill that void.
Later that evening, at the official After Party for Pulse, crowds of mostly black and Latino gay men gathered to dance, drink and remember their favorite club. A supermoon shone in the air and lit the streets, along with a few street lamps and floor lamps that illuminated backdrops with the Pulse logo emblazoned on it. Friends gathered together to take pictures.
"I lost three friends, three best friends on that night," Danile Barroquin, 22, said. "I'm going to enjoy this party because we're showing people what happened won't stop gay people."
Barroquin waited in line with his friend Trevor Homer to take pictures in front of the Pulse background. As people lined up to snap shots with their friends, they practiced posing. In line, Homer told Mic that this year's pride felt different than previous iterations.
"You felt more of the love than you felt before," he said. "It was a different vibe. You felt all of the love from everybody — people who were straight, gay, bisexual. You felt all the love."
In the Veranda's backyard, an open-air courtyard with a brick floor, a makeshift stage, rainbow decorations and laser lights, men in jockstraps danced alongside lesbians wearing pride-inspired Puerto Rican flags. The music switched between early-2000s hip hop and salsa. Even when the music switched, people dancing continued to salsa to songs like Lumidee's "Never Leave You (Uh Oh)."
Absent from the night's festivities was one emotion: fear. Directly after the Pulse nightclub shooting, several people chose not to go out to bars and clubs, according to several people who Mic interviewed. On the way to the pride celebration, an Uber driver said that, right after Pulse, the number of rides he'd get on a Friday or Saturday plummeted. He'd pick up groups going to house parties instead.
"I still talk to friends who haven't left their houses yet," Bahrami, the Pulse entertainment manager, said. "People are hit by it really hard."
But they showed up tonight.
To some, just coming out and being present was a statement. Bianco Williams was at Pulse the night of the tragedy and was mingling with Pulse staff near the Veranda at the end of the night.
"I was there that night," he said. Williams speaks quickly, musically and with energy. "We're trying to get together tonight to celebrate life." He added that this year's pride felt different "because people were missing."
"But we're here to celebrate life, not death," he said.
Before Williams walked away in a hurry to celebrate with his friends, he made an important point about Orlando.
"We've been strong before, and we're stronger now," he said. "We're all family, and we're all love."
The show opened with local queen Mr Ms Adrien, who Mic interviewed in the aftermath of the Pulse tragedy, performing two Lady-Gaga-inspired numbers: the pop diva's own version of John Lennon's "Imagine," and her flower child anthem "Come to Mama."
"We're at Pulse tonight, is that OK?" Mr Ms Adrien said to the crowd, who cheered.
Angelica Sanchez, another queen who hosted nights at Pulse, addressed the crowd as well. "Drink as much as you can, hug as much as you can. Dance as much as you can. It's a celebration. We have 49 lives to celebrate tonight."