Donald Trump says if 'Roe v. Wade' is overturned, women will "have to go to another state"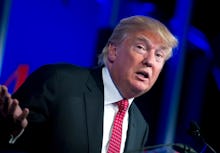 At the third presidential debate, Donald Trump made it clear that if he were to be elected, he would appoint pro-life Supreme Court justices that would overturn Roe v. Wade.
"In the ninth month, you can take the baby and rip the baby out of the womb of the mother just prior to the birth of the baby," Trump said of late-term abortion during the debate.
Now that Trump is the president-elect, he is discussing what, in theory, would happen should the landmark ruling be overturned.
In an interview with 60 Minutes Sunday, Trump said abortion rights would go back to the states in that scenario.
When interviewer Leslie Stahl asked in a follow up, "But then some women won't be able to get an abortion?" Trump said "Yeah, well, they'll perhaps have to go — they'll have to go to another state."
Trump added, "Well, we'll see what happens. It's got a long way to go."
Trump, who has a somewhat back-and-forth view on abortion, took an anti-abortion rights stance during the campaign and has vowed to defund Planned Parenthood. 
While many experts believe the chances of Roe v. Wade being overturned are unlikely, this doesn't seem to be a campaign issue he's backing away from.