A Tribe Called Quest 'We Got It from Here' review: A guide for thriving in the Trump era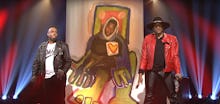 On Saturday, A Tribe Called Quest took the Saturday Night Live stage for the first time in their 26-year history to deliver one of their most devastating and necessary messages they ever have. "Stand up, touch somebody next to you. Everybody in here one fist up in the air," Q-Tip said, waiting for the crowd to comply, before confirming the significance of this gesture: "We are all one. We are the people." 
The group launched into "We the People...." their first single off their final album We Got It From Here... Thank You 4 Your Service, released Friday, which includes a biting satire of white America's fears that Donald Trump tapped into to lock in his presidential bid. It captured in a moment just how far we are from being truly united states, and how painfully important it is that everyone's words and work will be going forward.
All you Black folks, you must go
Tribe saw Trump's election coming a mile away — especially the late Phife Dawg, as Q-Tip explained at a listening party for the album: "He had a crystal ball or some shit," Q-Tip said. 
Their verses don't stay tip-toeing on the surface, though; they delve deeper, diagnose and recommend treatment for the disorders facing the nation. Those solutions will come mainly from patience, empathy and hard work — the same values Tribe has been repping since day one. Their calls slide over sleek boom bap that feel updated to the times, with plenty of its original jazzy charm. 
We Got It From Here... lives up to the self-important boast of its title. Tribe is in control, and their album feels like an instruction manual for the way forward for the politician looking to correct, the artist looking to heal and everyone in between.
The album is filled with eye-popping moments that are eerie in the amount of foresight they contain. Hearing Phife Dawg spit about the lack of genuine outrage around the very real possibility of a Donald Trump presidency on "Conrad Tokyo" now feels a warning from beyond the grave.
Trump and the SNL hilarity
Calling out SNL specifically for being a complacent player in making Trump seem a joke rather than a threat adds a new layer of hilarity to the fact they offered the album's live debut on the program. But the album's main goal isn't to lay blame. When it does, the MCs put their charges in perspective, decrying a wide culture of mediocrity, casual racism and delusion that has allowed individual ills, like a President Trump, to come to pass.
The group targets blinding effects of human egos on "Ego" and the way it "make you violent or govern like a tyrant" or "fool the thirsty people, selling tap water in bottles." They attempt to unpack the generational divide on "Kids," with Q-Tip and 2016's no. 1 feature Andre 3000 discussing its complexities in dialogue. They outline the issues that make the divide seem unbridgeable ("Them grown-up stories don't work/ In the court of the kiddies") but argue that with more patience and compassion, both kids and parents can find actually learn from one another and find new hope.
Most of the songs function in this way: They outline a problem, political, artistic or cultural, then wind through its twists and turns with a sardonic sort of smirk before the MCs take a step back to drop old-head wisdom. In anyone else's hands this formula would tire quickly. But the way Tribe packages this message of unity, with undeniable passion and a keen sense of fun and melody, makes it impossible to resist.
There's a spark in this music. Track to track, A Tribe Called Quest's three MCs sound like they're thrilled to be spitting again, like they're simply bubbling over with stories to tell and truths to relate.
It creates a vivrancy, one might say — an intergenerational, intersectional head nod that's felt from their first call:
Gotta get it together for brothers
To their last:
This is the last Tribe and our ego hopes that you felt us
The late Phife Dawg, who appears spitting as cleverly as ever but evolved as a thinker, even offers tips for young MCs who need now to create this same unifying magic: "Leave the iPhones home, skill sets must be shown," he says. Because it's on the younger generation to continue crafting these calls for peace and understanding that A Tribe Called Quest has been making since their beginning. 
Their message never tired and it never will, as long as the youth can stay informed, stay probing and stay relating it back to the people with impeccable style and flow.