What happens to Donald Trump's pending lawsuits now that he's the president-elect?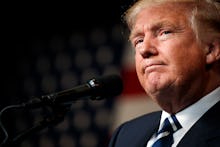 On Saturday, Donald Trump's legal counsel filed a motion requesting that the president-elect's Trump University trial be postponed until after his inauguration in January. In the official court document, first reported on by Politico, Trump's attorneys argue that the days leading up to his swearing in are crucial ones, requiring Trump to work tirelessly in preparation to assume the nation's highest office.
"This is an unprecedented circumstance," the court document concludes. 
Back in June, the two Trump University suits sparked a controversy when Trump said federal Judge Gonzalo Curiel's "Mexican heritage" prevented him from making a just ruling on the case.
"I'm building a wall," Trump said at the time. "It's an inherent conflict of interest." It was a statement that fellow Republican Speaker Paul Ryan denounced as "racist."
Trump continued to attack Curiel even after he agreed to postpone the trial until after the election so as to avoid impacting Trump's presidential campaign. However, on Thursday, Curiel refused to delay the trial — which has been pending for six years — any longer, according to Politico.
But that doesn't mean Trump, who's once called himself the de facto "law and order" candidate, will see his day in court.
According to Reuters, Curiel advised Trump University litigants, who claim they were schemed out of thousands of dollars, to settle the case.
"It would be wise for the plaintiffs, for the defendants, to look closely at trying to resolve this case given all else that's involved," Curiel told lawyers. Trump's attorneys said it may be necessary for the president-elect to settle.
If both sides decide to move forward with the trial, Trump will have to reckon every revelation that arose throughout his campaign, including his "alleged sexual misconduct, his taxes and corporate bankruptcies ... [his] speeches and tweets" — which his attorneys tried to argue were irrelevant to the Trump University case. 
"Defendants have not identified specific evidence that they wish to exclude," Curiel wrote in a court document on Thursday, denying the attorneys' request.
Curiel said he would allow Trump to testify via video conference.
Still, the Trump University suits are just the tip of the iceberg for the president-elect. In July, Hillary Clinton's campaign staff attempted to read out every lawsuit against the then-presumptive Republican nominee over the course of his career in a four-hour Facebook Live video — there are 5,500 of them. 
In May, USA Today reported that Trump's various business have faced "at least 100 lawsuits and other disputes related to unpaid taxes or how much tax his businesses owe."
But Trump and his attorneys have always battled to ensure these suits never see the light of day, and come out in their favor — which will likely continue to be the case when Trump officially assumes the presidency.
"I fight like hell to pay as little as possible," Trump said at a September news conference on his tax plan, according to USA Today. "I fight like hell always, because it's an expense. ... I have the best lawyers and the best accountants, and I fight, and I pay. But it's an expense."