'Beauty and the Beast' trailer introduces Emma Watson's Belle to Lumiere and Cogsworth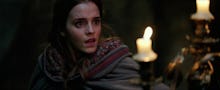 The story of Beauty and the Beast is a tale as old as time: Girl meets beast. Beast captures girl. Girl learns beast's tragic backstory. Beast finds humanity within himself. Beast has to defend himself from angry mob led by vain, preening egotist. Also, girl dances with people transfigured into furniture.
All is in order in the first trailer for Disney's Beauty and the Beast live-action adaptation. Starring Emma Watson as the girl, Belle, and Downton Abbey's Dan Stevens as the Beast, the two-minute clip gives audiences their first extensive glimpse at Belle's world, Beast's castle and more.
Previously, we got a minor look at Watson's Belle, but this is the first full view of one of Disney's most anticipated projects. Of particular note is the rendering of characters like Lumiere and Cogsworth; played by actors like Ewan McGregor and Sir Ian McKellen, the items are given anthropomorphized faces.
But the star here, of course, is Belle herself. There's little as exciting in the clip as seeing her in the iconic yellow dress dancing in the ballroom as an orchestral version of "Beauty and the Beast" plays in the background.
Beauty and the Beast hits theaters March 17, 2017. Watch the trailer below.