Nintendo Switch Price USA: Leak suggests it could be cheaper than expected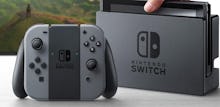 The Nintendo Switch is set to arrive in March 2017. The exact release date and price are still a mystery, but a new report may reveal how much the modular console will cost at launch.
Nintendo Switch price leaked?
According to Let's Play Video Games and reliable leaker Laura Dale, the Nintendo Switch will be available for £199.99 from British retailer Game. A more expensive version with extra internal storage will reportedly go for £249.99.
In a tweet, Dale said Game was quick to deny the Nintendo Switch price rumors, apparently threatening legal action over the report. That doesn't necessarily disprove the report, but we'd still treat these claims with a grain of salt for now.
Dale noted that Nintendo doesn't set retail prices in the U.K., so that price may vary. However, it's still based on Nintendo's wholesale price. So it should give us a pretty clear sense of what to expect.
Nintendo Switch price: Cheaper than the Wii U?
The same sources also told Dale that the Nintendo Switch price could convert directly in other countries as part of an effort to keep the new system free from region locks. In that case, the console might cost about $249.99 and $299.99 in the U.S. depending on which model you buy.
By comparison, the Wii U launched for $299.99 in the U.S. with a deluxe set priced at $349.99. So the Nintendo Switch price may actually be slightly cheaper than its predecessor.
A separate leak from Toys "R" Us also backs up the rumored Nintendo Switch price. The console will apparently cost $329.99 in Canada. That converts to roughly $242 in the U.S., which could be rounded up to $249.99 at launch.
Nintendo Switch specs: Still a mystery
The Nintendo Switch price may have been revealed, but the system's internal hardware is still a big question mark. 
We know the console features a custom-made NVIDIA Tegra processor. The Nintendo Switch will also sport a touchscreen display, according to Laura Dale, though all games released for the Switch should also work without touch controls.
Overall, the Nintendo Switch won't compete directly with the PS4 or Xbox One when it comes to pure power, according to Wall Street Journal reporter Takashi Mochizuki. The trusted Nintendo leaker noted that the Switch will still be "powerful," but in a different way from the competition.
Nintendo Switch release date: More info coming soon?
The Nintendo Switch is set to launch sometime in March 2017. We won't get any more official details this year, but an official "Nintendo Switch Presentation" on Jan. 13 should set the record straight. In the meantime, stay tuned for more news and rumors as the leaks continue.