What will happen in 'This Is Us' episode 7? Promo video and synopsis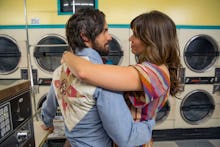 It's been two weeks since we've had a This Is Us episode — following a week off for, you know, the election — and it looks like episode seven will offer a lot in the tears and nerves department.
The most recent episode was pretty much all about Randall. We saw how his adopted father, Jack Pearson, noticed his brilliance as a child and decided to send him to a snooty private school. As an adult, Randall is a successful family man, but the arrival of his terminally ill biological father, William, continues to cause tension. 
Tomorrow's episode looks like it will continue to build on the problems caused by William since he entered the picture. A synopsis, courtesy of TV Guide, gives a clue of what's to happen.
Randall and Kevin's rocky relationship is explained; William unexpectedly reveals a secret to Beth; and Kate feels conflicted after Toby strays from his diet regimen. Elsewhere, Rebecca and Jack acknowledge the growing distance between them.
A promo video for the episode, which is titled "The Best Washing Machine in the World," showcases the increasingly complex characters and the secrets they have and hold. Kate, who continues to struggle with self-esteem issues and finding her place in the world, is now finding out that Toby may not be as easygoing as he appears to be. Kevin and Randall, who never had a good relationship growing up, seem to finally be moving somewhere — a bright spot in what looks to be a pretty dark episode. It also looks like William reveals something major to Beth, Randall's wife. Does it have anything to do with his terminal cancer? Or could he drop a bombshell about Randall's biological mom being alive? 
All will be revealed, or at least some of it will, when This Is Us episode seven airs Tuesday, Nov. 15 on NBC at 9:00 p.m. Eastern, 8:00 p.m. Central.