'Guardians of the Galaxy' Telltale game leaks: Is this the much-hyped new Marvel title?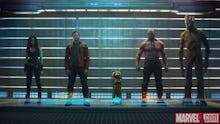 Though Telltale Games announced it was working on a new game based on a Marvel property back in April 2015, a new leak seems to have revealed that it's based on Guardians of the Galaxy — and documents from the ongoing strike by the voice actors' union SAG-AFTRA is the source.
Telltale's new Marvel game, Guardians of the Galaxy, leaks online
The folks over at ComicBookMovie spotted a document on SAG-AFTRA's site that lists a number of in-development video game projects for which contracts have yet to be negotiated as a part of its ongoing efforts to negotiate better wages and better transparency from game development companies about the projects for which actors are hired. Motherboard reported that many voice actors on video game projects have no idea what games they're working on, which hampers their ability to negotiate proper wages.
One of the projects on that document — which seems to have since been removed from SAG-AFTRA's site altogether — is "Guardians of the Galaxy — The Video Game aka Blue Harvest." The reason it's speculated this is the as-of-yet unrevealed Telltale project is because it's one of two games attributed to O'Farrell Enterprises — the other project is The Walking Dead, Season 3, the latest entry in one of Telltale's ongoing series.
A quick search for O'Farrell Enterprises on Google will bring up a listing on Corporation Wiki, which lists Darragh O'Farrell — a voiceover director for Telltale — as one of its members.
Eurogamer says it heard rumors earlier this month that Guardians of the Galaxy was indeed Telltale's next project, and that Telltale was planning on officially unveiling it at the Game Awards on Dec. 1.
Also, a little bonus fun fact: The listed codename "Blue Harvest" is a nod to Star Wars: Return of the Jedi, which used the same codename in pre-production to keep it veiled in secrecy.
Mic has reached out to Telltale for comment and will update this article if it responds.