'Pokémon Go' Lapras Event: Community raises over $18K to send fan to new nest location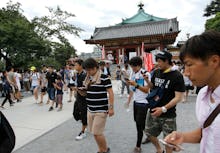 You think you went through a lot of trouble to catch a Lapras, one of the rarest Pokémon in Pokémon Go? One of your fellow players is about to go to Japan for a Lapras. Beat that!
Trainer Tips is one of the most popular Pokémon Go channels on YouTube for explanations on how the game works and advice on how to play it successfully. Nick, the creator and host of Trainer Tips, has launched a GoFundMe campaign to raise money to attend a special Pokémon Go event taking place in the Tohoku region of Japan.
Nick raised almost $19,000 before shutting down donations on the campaign page. He had hoped to raise $1,200.
Pokémon Go Lapras event: It takes a dedicated player to travel to Japan for a Lapras.
Pokémon Go developer Niantic is making a splash with special events like the recent Halloween celebration. Fans are getting exciting about the possibility of a Thanksgiving event as well.
On Nov. 10, the Japanese Pokémon Go Twitter account announced a special event taking place until Nov. 23, during which Lapras Pokémon would be easier to find. The event is taking place in "the coastal areas of Fukushima Prefecture," which is in the Tohoku region that was hit hard by the earthquake and tsunami that slammed into Japan on March 11, 2011.
"Besides the fact that I still need a Lapras, I'm fascinated by the idea that Niantic can impact an area's economy with Pokémon Go," Nick wrote in his GoFundMe pitch. "I've decided for my first international trip, I'm going to Japan to investigate this Lapras phenomenon and the effect it might have on tourism in the region."
The Pokémon Go community raised thousands of dollars in a single day.
Pokémon Go's dedicated fanbase has fueled vibrant online communities and led to the creation of third-party tools, like catch chance calculators and nest migration and Pokémon trackers, so perhaps the overwhelming and immediate support for Nick's trip ought to come as no surprise. Over 1,200 people donated to Nick's GoFundMe campaign with a final campaign total of $18,961.
"This is way more than I ever imagined," Nick wrote in an update on his GoFundMe page, "and I am eternally grateful to everyone who has donated. I appreciate all the contributions, and I'm excited to put this money towards rebuilding the economy of the areas affected by the tsunami."