Trump cabinet picks: Could Ivanka Trump, Eric Trump or Donald Trump Jr. join Trump's team?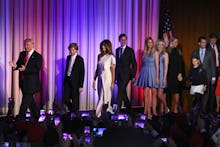 President-elect Donald Trump appeared on CBS' 60 Minutes on Sunday night with his children, who are reportedly being considered for high-level positions in his administration.
When asked if any of them wanted a job at the White House, Eric Trump said he plans to stay in New York to run the family business:
Lesley Stahl: Roles during the administration. Any of you want a job in your father's administration?
Ivanka Trump also said she would continue to work for the family business, but reiterated, as she did on the campaign trail, that she wants to be an advocate for women.
"I'm going to be a daughter. But I've said throughout the campaign that I am very passionate about certain issues. And that I want to fight for them," she said. "Wage equality, child care. These are things that are very important for me. I'm very passionate about education. Really promoting more opportunities for women. So you know, there're a lot of things that I feel deeply, strongly about. But not in a formal administrative capacity."
Donald Trump Jr., an avid hunter, is reportedly being considered for secretary of the interior.
But a 1967 statute prohibits the president from hiring relatives, including relatives by marriage. Here are the key passages from that law:
(b) A public official may not appoint, employ, promote, advance or advocate for appointment, employment, promotion or advancement, in or to a civilian position in the agency in which he is serving or over which he exercises jurisdiction or control any individual who is a relative of the public official. An individual may not be appointed, employed, promoted or advanced in or to a civilian position in an agency if such appointment, employment, promotion or advancement has been advocated by a public official, serving in or exercising jurisdiction or control over the agency, who is a relative of the individual.
Technically, Trump's children could forego a paycheck, but even that could bring up a host of legal challenges for the Trump administration.
"While it's true that the penalty for violation of the statute is just to withhold salary or other financial remuneration from the wrongfully appointed employee, there's also the possibility that any action taken by such a wrongfully appointed employee could be subject to legal challenge and potentially even be voidable," Steve Vladeck, a professor of law at the University of Texas School of Law, told CNN.
Trump could also appoint his children in a special "czar" position, as former President Bill Clinton did when he put his wife Hillary Clinton in charge of reforming health care.
Trump's wife, Melania, said during the campaign that as first lady she would focus on fighting online bullying.