"Final Election Count" Google results promote a dangerous right-wing hoax with false info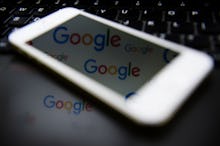 Donald Trump was elected president of the United States, but Hillary Clinton won the popular vote — and her lead is growing. So why does the leading Google search result indicate that Trump won the popular vote? And why is the top story from such a sketchy source?
When you Google search "final election count," the top search result is a factually incorrect story that suggests that Trump won both the popular and Electoral College votes. He didn't. 
The story is from 70News, a far-, far-right-leaning Wordpress blog. 70News' headlines include things like "THE STEVE BANNON HYSTERIA: IF TRUMP CHIEF STRATEGIST IS CAUSING LEFT-WING MEDIA MELTDOWN, IT MEANS TRUMP DID THE RIGHT THING... HE'S PERFECT FOR THE SPOT!" and an entire vertical dedicated to "Hillary's Health."
Why does fake news rise to the top of Google searches?
Google uses algorithms to determine what websites appear in searches, crawling through websites and keywords to "find the appropriate pages" and ordering them in your search results.
But in the aforementioned search results, the algorithm deemed a false, far-right blog post, a website dedicated to debunking rumors and an article about Google's spread of misinformation as the "appropriate pages" for "final election count."
The failure of algorithms to differentiate reliable, unbiased news from sensationalism, hoaxes or factually incorrect "news" speaks to a larger issue at hand: While tech companies aren't responsible for writing the news, they are responsible for governing the news they distribute. 
In other nooks of the web, massive sites like Facebook and Twitter have also seen their networks inundated with viral hoaxes — a pitfall that places the onus of fact-checking on its users.
How does misinformation spread?
"Personally I think the idea that fake news on Facebook, which is a very small amount of the content, influenced the election in any way — I think is a pretty crazy idea," Zuckerberg said two days after Trump was elected president, Quartz reported. "Voters make decisions based on their lived experience."
Zuckerberg is downplaying the influence of his platform. Facebook is curating and delivering news to millions of people with its News Feed feature, which algorithmically ranks trending stories and presents them to you on your homepage.
In a Facebook post, Zuckerberg claimed that "more than 99% of what people see [in the Trending section] is authentic." But studies show otherwise: BuzzFeed's analysis found "38% of all [hyperpartisan right-wing] posts were either a mixture of true and false or mostly false, compared to 19% of posts from three hyperpartisan left-wing pages that were either a mixture of true and false or mostly false." The Washington Post performed its own audit and found similar results.
Twitter was also hit with a stream of hoaxes leading up to the election. Internet trolls schemed to flood the social media site with fake hashtags and memes in order to quell support for Clinton — they tried to dupe left-wing voters into casting their ballots via invalid methods like texting and tweeting. Six days before the election, Twitter finally addressed the voter suppression by blocking accounts. "Not sure how this slipped past us, but now it's fixed," Twitter CEO Jack Dorsey said, according to BuzzFeed News. 
Dangerous hate movements are entering the mainstream — and social media is responsible
In New York magazine, Max Read argued that tech companies and their faulty algorithms had a decisive role in swinging the pendulum into Trump's camp. One major problem, he notes, is that Facebook's viral hoaxes look so real: "Many of those stories were lies, or 'parodies,' but their appearance and placement in a news feed were no different from those of any publisher with a commitment to, you know, not lying."
Facebook, Google and Twitter's influence is undeniable. It's this influence that gave the far-right, white-nationalist platform Breitbart News a record audience — and paved the way for Breitbart executive chairman Stephen Bannon to become Trump's senior counselor and chief West Wing strategist.
The real issue moving forward isn't just the continued spread of misinformation, as we saw in Monday's Google search result for the final election count — but also the dangerous ideologies that have taken center stage on social media, bolstered by Trump's campaign. In 2016, tech companies' determination to remain unbiased and not stir the political pot has inadvertently given white nationalism a major platform.
When Trump supporters are able to silence victims of death threats on Facebook and use coded speech to spew racist abuse in plain sight on Twitter, it's time for these companies to reevaluate how much they lean on algorithms and consider their responsibility to govern the growing hate movements that have blossomed on them.
Mic reached out to Twitter, Google and Facebook for comment and will update if we hear back.