Which of Donald Trump's family members will live in the White House?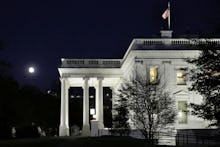 Donald Trump's life is about to change dramatically. Though the president-elect ran on a campaign promise to "drain the swamp," he is quickly finding that, in many ways, he'll have to wallow in that swamp in order to fulfill his presidential duties.
One of those duties includes living in the White House.
On Friday, though, the New York Times reported that Trump is still holding out hope that he'll be able to spend as much time as possible in his Trump Tower penthouse digs. Trump's advisers told the Times that the president-elect "might spend most of the week in Washington, much like members of Congress, and return to Trump Tower or his golf course in Bedminster, New Jersey, or his Mar-a-Lago estate in Palm Beach on weekends."
But despite whatever Trump's living arrangements may be, his wife Melania and 10-year-old son Barron intend to move to the White House, according to the Times. 
The Trump children's involvement in their father's campaign has led some to wonder whether Eric Trump, Donald Trump Jr., or Ivanka Trump will be joining the rest of the family in Washington. Indeed, the president-elect has named the three, along with son-in-law Jared Kushner, to the transition team that will help him choose the members of his administration, according to Reuters.
After his January inauguration, though, Trump said the siblings will take over his business so as not to violate "conflict-of-interest laws." Whether or not that will be enough to avoid a "conflict of interest" is a little murky.
"If they're going to be involved in government functions — and they're starting down that road — and running the business, that's going to make it very difficult to separate the government and business functions and deal with the conflicts of interest," Washington lawyer Kenneth Gross told the Huffington Post.
In any case, the siblings will likely run Trump business from New York City, while Melania Trump and Barron will be living in the White House — where Trump may or may not stop by occasionally if only for a fresh shirt.