iOS 10.2 is coming in December — here are the features we're most excited for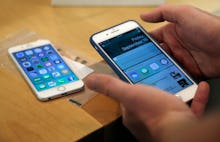 Apple is gearing up for the release of its latest software update, iOS 10.2. According to CNET, it's arriving in December with a string of new features that offer convenience and new ways to express yourself. Here's what we're most excited for:
TV app
Apple's new TV app for the Apple TV was demoed during October's Macbook keynote, but the program is coming to iOS as well. It will create a one-stop shop for all of your entertainment viewing needs, pulling content from numerous streaming apps into one organized service, which will then make recommendations based on viewing history over time. 
Emergency SOS
This is a feature we hope you never have to use, but important nonetheless. Once updated to iOS 10.2, you'll be able to contact emergency services like 911 by simply tapping the iPhone's power button five times in a row. It'll be handy if you're ever in a precarious situation where you can't remove the phone from your pocket. 
New emojis
On a more lighthearted note, new emojis are coming to iOS. In total, 72 new emojis will become available with options like a face palm, avocado and, yes, a gorilla that everyone will undoubtedly call Harambe. Check out the full list of incoming emojis at the Unicode website. 
Preserve camera settings
Fond of shooting in square mode for Instagram? Really into black and white shots? Now you can save your favorite camera settings to open automatically instead of reverting back to the default options whenever you open the Camera app. 
Celebration iMessage effect
Adopters of iOS 10 are aware of the special text effects available in iMessage. Now you can add one more to your repertoire: Celebration. 3D Touch any message you want to send as a celebration and watch as sparklers fill the screen and recipient with joy.