Days after the election, Texas is already introducing terrifying new abortion restrictions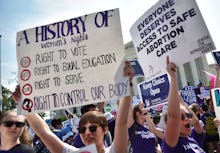 In the days since his election, President-elect Donald Trump has reiterated his promise to appoint Supreme Court justices who will overturn Roe v. Wade, in hopes of returning all power to regulate or restrict abortion to the states. Although that's not quite how judicial appointments or legal precedents work, Trump's intentions to appoint anti-abortion justices will likely result in a dramatic uptick of harmful abortion regulations across the U.S. 
On Tuesday, the state of Texas ever-so-reliably offered a preview of what that could mean for women's health in Trump's America — and it doesn't look good. 
On the first day of the Texas legislature's filing period for the 85th legislative session, Republican Rep. Matt Schaefer introduced a proposed amendment to ban third trimester abortions in cases of fetal anomalies. The measure would amend the state's health code to restrict abortion even when a fetus has been diagnosed with "a severe and irreversible abnormality," limiting patients' right to terminate pregnancies even if infants are medically certain to die after birth. 
The proposed amendment targets late-term abortions, or abortions that occur after 20 weeks gestation. Such procedures are already regulated in the state, and include exceptions for pregnancies that are life-threatening to the mother, determined to be non-viable or in cases of fetal anomalies — but that last part would change if Schaefer's amendment passes. 
Reproductive rights activists maintain that such amendments could impinge upon the rights of some of the most vulnerable abortion patients. The overwhelming majority of abortions — like, more than 98% — occur before 21 weeks gestation, according to the Centers for Disease Control and Prevention; those that occur after tend to happen due to devastating fetal abnormalities that aren't detectable until later in a pregnancy. 
Many patients who decide to terminate at such a late stage do so to avoid their babies' suffering or due to risks to the mother's health. That's precisely what motivated Texas couple Nicole Stewart and her husband, Anton Schlesinger, to end a wanted pregnancy in their first year of marriage, shortly after they learned their son had "a constellation of abnormalities." After Stewart began speaking publicly about the decision, Schlesinger shared how the experience impacted each of them in an interview with Mic earlier this year.  
"Men need to listen up and realize this affects them. They need to be aware of the possibilities that things can go wrong, and the importance of being able to have the choice to have an abortion if necessary," Schlesinger said. "Even though men don't carry the burden, we support the women who do." 
Texas — the state where Roe v. Wade arose — has become known for its extreme efforts to curtail reproductive rights, some of which the Supreme Court struck down in June. The state legislature, however, is one of several conservative legislatures to enact numerous abortion restrictions, and the fetal anomaly amendment won't be the only such measure Texas considers. Schaefer also introduced a bill to require abortion facilities to submit monthly reports to the state on each abortion performed, in lieu of annual reports, while another lawmaker filed a house bill that will codify Texas' proposed fetal remains rule into law. 
The legislature's early move against women's health makes the president-elect's suggestion that people will "have to go to another state" if they need abortion care seem a bit unrealistic for patients across the south, especially. But hey, looks like anything is possible in Trump's America.