'Fantastic Beasts and Where to Find Them' Reviews: The good and the bad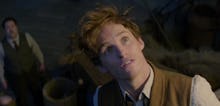 Although Fantastic Beasts and Where to Find Them won't officially hit theaters until this Friday, reviews of the film, which is said to be the first of a series of prequel films that will make their way into the Harry Potter universe, have been pouring in. Fortunately, they're very positive—at least for the most part.
Fantastic Beasts stars Eddie Redmayne as Newt Scamander, an oddball British wizard who arrives to New York City during the Roaring '20s after traveling the world to investigate its magical creatures. He's like a wizard version of Charles Darwin. 
Early reviews of the movie, directed by Harry Potter-helmer David Yates with a screenplay by none other than author J.K. Rowling, have praised the film's complex narrative, the performances of its cast (which, in addition to Redmayne, includes Katherine Waterston, Colin Farrell, and Johnny Depp), and its meticulous attention to period detail. 
Read snippets from the raves below.
Peter Debruge, Variety: 
The first in an ambitious five-film pentaptych, whose first two installments are being handled by David Yates (the director responsible for the four ultra-bleak blockbusters that wrapped the "Potter" franchise), "Fantastic Beasts" does double-duty as yet another imagination-tickling fantasy adventure and a deeply troubled commentary on tolerance, fear, and bigotry in the world today.
Cath Clark, Time Out:
Redmayne radiates a wet-eyed warm glow as stumbling, bashful Newt – an English wizard in New York. He's perfect for Rowling's world, where a kind heart is the most potent magical power of all.
Eric Kohn, Indiewire:
But the real star of "Fantastic Beasts" is its heavily stylized, period-specific setting. From a seedy jazz club filled with outrageous beings to an explosive showdown in Manhattan's old City Hall subway station, the movie captures a New York that's at once nostalgic and otherworldly.
Peter Bradshaw, The Guardian:
"Fantastic Beasts" is a rich, baroque, intricately detailed entertainment with some breathtaking digital fabrications of prewar New York City. This is Steampunk 2.0, taking its inspirations from Terry Gilliam's "Brazil" or Howard Hawks's "His Girl Friday" but the New York [Rowling] creates also has the dark, traumatized look of Gotham City.
Then there were a few that were positive, but less so. 
Jason Solomons, TheWrap: 
"Fantastic Beasts and Where to Find Them" has all the makings of a huge family blockbuster, but all the bloated traps of those, too. It hasn't quite got the balance right, but, like the title hints, surely knows where to find the magic formula over the ensuing movies.
Chris Nashawaty, Entertainment Weekly:
Rowling, who also wrote the script, nimbly lays out her world, but that world isn't nearly as rich as the world of Hogwarts. And the villains (chief among them Colin Farrell's Percival Graves) are stock cinematic baddies. "Fantastic Beasts" is two-plus hours of meandering eye candy that feels numbingly inconsequential. Maybe this is all necessary table-setting that will lead to bigger payoffs in chapters 2 through 5. I hope so. Because for a movie stuffed with so many weird and wondrous creatures, there isn't nearly enough magic.
Fantastic Beasts and Where to Find Them hits theaters on Friday, Nov. 18.