Transgender models Benjamin Melzer and Loiza Lamers front Diesel's latest collaboration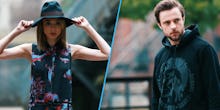 From Andreja Pejic modeling for Reformation and Kenneth Cole to Hari Nef modeling for H&M and Camper x Eckhaus Latta, transgender models continue to make tremendous strides in the fashion industry.
To keep that momentum going, two transgender models, Benjamin Melzer and Loiza Lamers, have teamed up for a collaboration between the denim brand Diesel and the German clothing company About You.
"Diesel contacted me for a campaign around the same time Loiza and I were planning on doing a concept shoot to raise awareness to create more opportunities for transgender models in campaigns for major brands," Melzer said in an interview. "Diesel heard the idea and loved it."
Previously the pair had already made history, Melzer as the first transgender man on the cover of Men's Health in Germany and Lamers as the first transgender model to win Holland's Next Top Model.
In the collaboration's video, which dropped on Monday, Lamers and Melzer are seen posing in casual denim and separates in a typical urban scene, offering a behind-the-scenes look into the collab photoshoot itself, which can partly be seen on About You's website.
"Transgender models Benjamin Melzer and Loiza Lamers were chosen because they perfectly support the brand's attitude: free-spirited, against all odds and fresh young minds," a Diesel spokesperson said.
What Melzer hopes to achieve with this collaboration is to generate visibility for transgender people and particularly models, and show that they're not just some fad that's going to come and go like a trend.
"Well, as you know, the transgender community has been getting a lot of attention the past few years which is a good thing, but it's so important right now that we continue to strive and work hard to break through that glass ceiling so transgender men and women are not seen as a fad or hype. We are real people with real professions and should be allowed the same opportunities as everyone else," Melzer said.
What Lamers also hopes is that when people see this collaboration, they see "two hard-working models," but also acknowledge that they have an important story to tell. She hopes people realize that being transgender "is just normal" and wants it to "really open peoples eyes and bring a change, acceptance and awareness."
Transgender models are in an interesting position right now. Although some are regularly booking work, there's still plenty of models who aren't yet being accepted into mainstream fashion at all. And for that progress to happen, Melzer says that fashion needs to wake up and give transgender models opportunities.
"Someone needs to give somebody a chance, and once that chance is given, that person needs to deliver," Melzer said. "We are proud and honored to be just two of the many given this opportunity and responsibility."
You can watch the entire collaboration video below: