Oscars 2017 predictions: Which movies are the early favorites to take home best picture?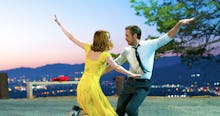 As buzzy movies like Arrival and Moonlight open in theaters, awards season is hitting full swing. What better time than now to dissect the state of the best picture race at the Oscars?
The 2017 Academy Awards will be marked by an unusually even playing field. After The Birth of a Nation fell apart, the best picture race was left without a clear frontrunner, but a few very strong competitors. Here are our guesses as to which movies have the best shot at taking home the Oscars' highest honor come Feb. 26, 2017.
La La Land
For: Can Damien Chazelle, whose Whiplash was such a hit with critics and industry folks, revive the original movie musical? He's certainly got people excited with La La Land, a charming bit of old Hollywood flair with megawatt stars Ryan Gosling and Emma Stone as its leads. If Oscar voters want to escape into cinematic history this year, this is their chance.
Against: The last musical of any kind to win best picture was Chicago in 2003; the last original movie musical to win best picture was Gigi in 1959. La La Land is going to have to make a lot of history to take home the gold.
Odds: 4-1
Fences
For: Denzel Washington is a two-time Oscar winner for a reason. The actor directed this adaptation of August Wilson's play; he and co-star Viola Davis both won Tonys for their performances in the 2010 Broadway revival. This one promises to be big.
Against: Will it feel too small? The other movies on this list promise spectacle and scope; Fences is a more intimate, human drama. (Caveat: The drama in the trailer alone feels seismic.)
Odds: 6-1
Silence
For: Martin Scorsese directing an adaptation of Shusaku Endo's gripping novel — a project he's been working on for literal decades — is not going to get ignored by the Oscars. No matter how it is, it'll get attention.
Against: Well, we don't actually know how it is. Silence isn't screening for even the earliest industry audiences until late November, which leaves a very narrow window to build buzz.
Odds: 7-1
Arrival
For: Arrival is almost certainly getting into the best picture race after a strong opening weekend and a set of great reviews. The question now is how far the Amy Adams alien movie can go. Gravity and The Martian failed to take home the big prize; could Arrival be the one?
Against: The last time a movie with a female lead won best picture was 2004, when Million Dollar Baby edged out The Aviator. Oscar voters prefer a male-led narrative; as disappointing as it is, Adams as lead may prevent Arrival from going all the way.
Odds: 15-2
Jackie
For: It's a political biopic about one of American history's most iconic first ladies, with an Oscar-beloved actress (Natalie Portman, winner for Black Swan) in the title role. Underestimate Jackie at your own peril.
Against: It's not exactly a safe biopic. Pablo Larraín has made a wild, expressive, excessive film, and those don't always sit well with the more staid Academy membership.
Odds: 9-1
Lion
For: We may be underestimating this one. Lion, about a young man's search for his family, is the kind of story that fits right into the Oscars' wheelhouse. Think of best picture nominee Philomena, in which Judi Dench searched for her son, or Dev Patel's breakout role in Slumdog Millionaire, which swept the Oscars in 2009.
Against: We've still got some time before awards season heats up, but Lion feels remarkably quiet. Even other movies that haven't been released (like Fences, which hasn't even screened at a festival) are making more noise.
Odds: 15-1
Moonlight
For: Director Barry Jenkins' three-act exploration of a black, queer man's coming of age is hitting big with both critics and audiences at just the right time. People will be talking about Moonlight well into awards season — an impressive feat for an indie movie released in October.
Against: Unfortunately, Moonlight is almost certainly going to have to settle for some key nominations and a potential award for supporting actor Mahershala Ali. It's a fantastic film, but it'd be a shock if the awards body that failed to acknowledge nonwhite talent for the past two years suddenly wake up and give such a bold, unrepentantly black film the top prize.
Odds: 40-1