'Jackie' official trailer gives sneak peek of Natalie Portman's Oscar worthy performance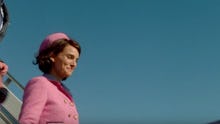 Back in 2010, Natalie Portman won her first Oscar for her devastating performance in the psychological drama Black Swan. It's one of the greatest performances of the decade, one the 35-year-old actress may find herself outdoing in Jackie, the upcoming film that features Portman playing first lady Jackie Kennedy in the days following her husband's assassination. 
In the film's first official trailer we see — often in excruciating closeups — Portman channel Jackie's grief, rage and, perhaps most significantly, her determination to secure not only her husband's legacy but also her own. Jackie is directed by Chilean mastermind Pablo Larraín (who received an Oscar nomination for his film No), and co-stars Peter Sarsgaard and Greta Gerwig. But the trailer is all Portman as Jackie—the way she moves, the way she emotes or doesn't emote, and perhaps most chillingly, the way she looks in the infamous pink Chanel suit Jackie wore on the day her husband was killed.
If this brief montage is anything to go by, we should be seeing Portman garner a third Oscar nomination, and perhaps second win come early 2017. 
Before it's released to theaters on Dec. 2, check out the trailer for Jackie below.