iPhone vs. Android: 6 things the Android operating system can do that Apple's iOS can't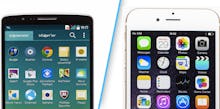 If design, price and die-hard brand loyalty aren't variables in picking a smartphone, then chances are function is the determining factor. In the battle of iPhone vs. Android operating systems, arguments can be made in favor of both. Consumers who want simplicity and a steady experience will likely value Apple's iOS, while those who want more customization will likely lean toward Android. 
The latest operating system for the iPhone is iOS 10, which is compatible on Apple phones and tablets, and the most recent OS version for Android is the Android Nougat. For those considering a device with an Android OS, here are six things an Android operating system can do that iPhone's OS cannot.
Multi-window view
The new OS for Android features multi-window support, which allows the user to simultaneously run two apps side-by-side. This feature has previously been available on Samsung and LG handsets, but it's now available on all Android devices with the recent update. 
"Now you can switch between apps with a double tap, and run two apps side- by-side," the Android Nougat website reads. "So go ahead and watch a movie while texting, or read a recipe with your timer open."
Apple does offer multi-window support for its tablet users, but the feature is not currently available for iPhone users.
VR support
Android Nougat offers a virtual reality mode that can be used on devices compatible with Daydream, Google's virtual reality headset. Daydream?ready phones include Google's Pixel and Pixel XL, but are slated to expand to other devices.
Launchers
Android's user interface is called Launcher — also called a skin — and it allows the user to customize their experience. The skins vary in themes and gives the phone a unique, custom feel with different icons, tools and enhanced functions. For those who like the sleek and simple feel of the iOS interface, Google's new Pixel Launcher offers the same vibe, though it's only compatible with a Google phone.
Personal Assistant
Apple has Siri and Android has Google Now. Android users who allow their device to gather data can reap some conveniences from their digital personal assistant like receiving directions to a recently searched destination. The Android 7.0 Nougat update for Pixel Phones features Google Assistant, which is more conversational, can entertain the user and make reservations. Those operating on Android 6.0 Marshmallow also have some perks like the Now on Tap feature, which provides information on what's on your screen, whether it be to get a movie review or details about a song.
App storage
On iPhones, apps are placed on the home screen of the device and can be organized into folders, while Android users have an "app drawer" to store apps and widgets. App shortcuts can be placed on the home screens. Users have the option to have a clean home screen with convenient functionality if that's what they want.
Wi-Fi information
Android devices show the user what Wi-Fi network they're connected to up front — it is written out in small type just below the Wi-Fi icon. Apple owners have to go into settings to see what network they are using.