Trump supporter punches woman in face for expressing political views to friend over dinner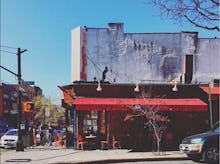 Post-election America is tense. A Donald Trump presidency has provoked glee in some and acute fear in others, as well as an immediate rise in the incidence of hate crimes — even in self-declared safe zone New York City. 
A recent example: The Trump supporter who punched a woman in the face at a Brooklyn bistro, apparently because she did not share his political views. 
As Gothamist reported, an argument between diners at Bar Tabac, a French restaurant in Boerum Hill, ended in assault at around 6:50 p.m. on Saturday. 
Two women discussing politics apparently caught the ear of two Trump supporters at the neighboring table. It seemed to have been the pro-Trump couple who then started the altercation, according to Gothamist. 
According to DNA info, one of the Trump supporters, a man, requested that the women be made to leave; instead, he and his companion were reseated. When they eventually left Bar Tabac, the man was complaining loudly. 
A few minutes later, he was back, "almost running" as he muscled his way over to the women, Jonas Leon, the Bar Tabac manager on duty Saturday night, told the Brooklyn Paper. Jostling a baby in a highchair in his rage, Leon said, the man punched one of the women squarely in the face. 
"It's the worst thing ever — a guy in front of kids punching a girl in the face," Leon added. Speaking to DNA info, Leon clarified that the man was motivated by his politics.
"The guy who punched the girl was pro-Trump for sure," he said.
By the time the police arrived around 7:20, the man had already left the scene, yelling "You don't know who I am!" as he got into his car, according to Leon's account in the Brooklyn Paper. The manager did not get the car's plate numbers, and because he paid in cash, the restaurant does not know his name.
But according to Leon's account, the man is about 5'6" with straight hair worn in a buzzcut. The victim, 49, filed a police report but declined medical attention, according to Gothamist. As one witness told the Brooklyn Paper, the woman was visibly shaken and "sobbing."
In a Facebook post, Bar Tabac condemned the "vulgar outburst" and warned the couple never to come back to the restaurant. "At a point in this nation when tensions are highest, we need to come together now more than ever."