'PBS NewsHour' co-host Gwen Ifill dies at 61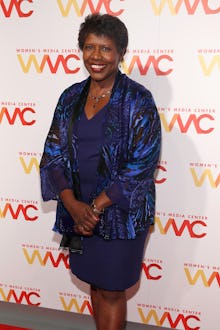 Gwen Ifill, the PBS anchor know for co-hosting NewsHour with Judy Woodruff, died Monday at the age of 61.
Politico reported Ifill died after a "battle with cancer," citing confirmation from PBS. Politico reporter Hadas Gold tweeted the news at 1:54 p.m. Eastern. 
On Thursday, the Associated Press reported the anchor was "taking unspecified time off for health reasons."
"Ifill, 61, was out for two months last spring," the AP noted. "She has not revealed the nature of her illness."
Sharon Percy Rockefeller, CEO and president of public television and radio stations WETA, delivered the news to colleagues in an internal email Monday.
"I am very sad to tell you that our dear friend and beloved colleague Gwen Ifill passed away today in hospice care in Washington," Rockefeller wrote, according to Politico. 
"I spent an hour with her this morning and she was resting comfortably, surrounded by loving family and friends," she added. "Earlier today, I conveyed to Gwen the devoted love and affection of all of us at WETA/NewsHour. Let us hold Gwen and her family even closer now in our hearts and prayers."
Sara Just, executive producer of PBS NewsHour, extolled Ifill's professional impact in a statement Monday, Politico reported:
Gwen was a standard bearer for courage, fairness and integrity in an industry going through seismic change. She was a mentor to so many across the industry and her professionalism was respected across the political spectrum. She was a journalist's journalist and set an example for all around her.
Health problems notwithstanding, Ifill played an integral role in public television's coverage of the presidential elections.