'Westworld' season 2 was renewed and we have no idea where they're taking the plot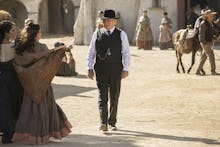 Here's some good and rather expected news: HBO is renewing Westworld for a second season. The ambitious sci-fi series might've been an exhaustive show to make, which reportedly had several delays along the way, but it's turned into one of HBO's most promising new shows since Game of Thrones. 
Given how long the first season took to make, the network is already gearing up for a later release date, likely sometime in 2018, per the Hollywood Reporter. But perhaps the biggest question is where the series could end up going for season two. 
Westworld is a show that's big on the intrigue and mystery, akin to Lost, and seven episodes into the first season there's still more questions than answers for the audience. It makes for a lot of entertaining and thought-provoking Reddit fan theories — one of which came true on Sunday — but it also means that the direction for season two is very much up in the air. To that end, HBO doesn't even want to reveal which members of the cast will return. 
"I don't want to speculate about cast because there's still three episodes left to air," HBO programming president Casey Bloys told the Hollywood Reporter. 
The series creators, Jonathan Nolan and Lisa Joy, have previously expressed interest in making Westworld a five season-plus endeavor, so we'd imagine that would eventually go beyond the confines of the park. Granted, the show has explicitly stated that the robotic Hosts can't leave the park — but dammit, for the sake of the overarching plot, they eventually should be able to. 
The big questions we still need answers to: Could there be a Medieval World and Roman World thrown into the show as a nod to the original 1973 film from Michael Crichton? What will Dolores learn at the center of the maze? What actually happened to Arnold? Do the Hosts poop? 
Hopefully all of these and more will be answered soon, but in the meantime, fans on the Twitterverse are just happy that we're getting a second season (along with a delightful tease from Westworld actress Evan Rachel Wood).