Drake, Taylor Swift collaboration is the most painfully predictable move for both of them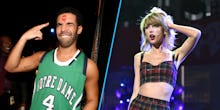 Like a shrewd stock trader or financial analyst, Taylor Swift always has her finger on the pulse, and right now, hip-hop is looking very bullish. Rappers and R&B crossovers have driven nearly the entirety of the music conversation this year — from Kanye West to Rihanna to Chance the Rapper to Beyoncé to Frank Ocean, with Adele being the rare exception. Yet Swift has lost much her quirky, relatable charm in recent years, which has is what has made every Adele story such a delight; Swift is an empire-builder now. It makes perfect sense that for her forthcoming sixth album, she's going to be going for full "urban sound," according to new reports out of the Sun.
In a Saturday Tay Tay check-up, the British tabloid shared findings about what Swift's highly anticipated sixth studio album will sound like. According to an anonymous source, she's been writing with Drake, the current king of the charts and streaming, and plans to deliver a "real mix of edgier hip-hop and R&B sounds." 
Those odd whistling sounds you hear are all of hip-hop's forefathers simultaneously laughing and crying in their graves. But no one living should be surprised — either that pop's "Aryan goddess" would attempt hip-hop or that Drake would give her a pass — this is the direction both artists have been moving for years.
The source cited her "Bad Blood" remix featuring Kendrick Lamar as an inspiration for this new direction: It "was a big hit," the source reportedly said, "so she thinks her fans will like her going in this direction." 
With every album, Swift has moved closer to the center of the pop/hip-hop industry. Her most recent album, 1989, showed the artist literally moving to hip-hop's birthplace, though "Welcome to New York" was largely rejected by the city. Honestly, Swift is a little late to the crossover world: Even Katy Perry, who comes from a contemporary Christian rock scene, has tried it several times before, with Juicy J, Snoop Dogg and Kanye West. 
The tricky part is that Swift comes from an explicitly country music background. As Beyoncé's presence at the 2016 Country Music Association Awards just revealed, country music fans have a lot of issues with black art and artists that they're still working out. 
Similarly, with every Drake cut he's moved closer to making irresistible pop radio candy. His reliance on ghostwriters or collaborative writing is a straight-up pop mechanism. "Hotline Bling" is a radio anthem, and a pioneer in pop's new obsession with easily gif-able, sharable music. Drake's "One Dance" is more popular than any pop song: It recently broke the record for being the most listened to song on Spotify ever. A collaboration with Swift will likely be that last step toward ensuring every lonely heart in the world knows Drake's name.
Perhaps Swift's hip-hop experimentation will help country fans get a little more comfortable seeing their "country" faves collaborate with hip-hop radio's luminaries. It may also help Swift earn back a little of the street cred she lost when she was caught in an epic lie about how much she knew about her mention in Kanye West's "Famous" — an event that may still go down as pop's Watergate. 
This collaboration between Swift and Drake, the two biggest names in millennial pop and hip-hop respectively, will undoubtedly chart the course of all pop to come. If it succeeds, expect the Venn diagram between the two worlds to contract to a flat circle.
If it fails, expect a backlash unlike any we've seen among musical fandoms. 
Who's ready to watch the world burn?