iPhone 8 news and rumors: 5 questions we have about the potential 2017 release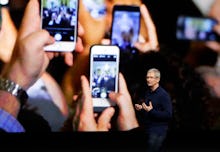 As 2016 draws to a close, the prospect of yet another iPhone awaits in the new year. Apple has yet to confirm its existence, but most are confident the company will introduce another model. Until Apple announces the next iPhone, we'll keep asking questions. So without further ado, here are five questions we have about the iPhone 8. 
1. Will it even be called the "iPhone 8"?
Dating back to 2009's iPhone 3GS, Apple has released an "S" version of its flagship smartphone between each new numbered model. Considering that trend, it seems like Apple would follow the iPhone 7 with an iPhone 7s. But this time around it may be different: 2017 marks the 10th anniversary of the original iPhone, leading many to speculate that Apple is going to go all-out with a revamped device worthy of the "8" designation. This means the iPhone 8 would come packaged with a number of innovative features, which leads us to the lingering questions we have about the iPhone 8's design. 
2. Will the standard iPhone 8 feature a dual-lens camera?
The iPhone 7 Plus features a dual-lens camera with a "portrait mode" that is capable of producing some stunning, DSLR-quality results. Will Apple embed this technology in its standard version of the iPhone 8, or reserve it for the Plus edition? KGI Securities analyst and renowned Apple insider Ming-Chi Kuo believes Apple will hold out once again, according to MacRumors:
While an attractive addition for avid picture takers and professional photographers, the iPhone 7 Plus dual-camera is not a mass-market killer application yet. Along with its high cost (estimated at over US $30 to $40) and the necessity for Apple to enhance the added value of high-end iPhone models, we expect only high-end new iPhone models (30% to 40% of them) to have a dual-camera next year.
Still, it's early on and Apple might want to shake things up. We'll see how the rumors develop going forward.
3. Will the iPhone finally get a major redesign?
The iPhone 7, while praised for its exceptional performance, was criticized for its lack of imagination when it comes to design: It looks just like an iPhone 6 save for a headphone jack. Next year's model is rumored to feature a major redesign. We're talking an edge-to-edge OLED screen with an integrated Touch ID. If the rumors are true, the iPhone could look something like the concept photo below:
Note the bezel-less display and absence of a home button. In theory, users would be able to place their fingertips anywhere on the screen to unlock the iPhone. We'll have to see about that — this is all just speculation for now. 
4. Will the iPhone 8 have wireless charging?
An edge-to-edge screen would be neat, but not necessary. Where Apple is seriously falling behind in terms of its Android competitors is the lack of wireless charging. A number of smartphones already feature this technology, and if Apple really wants to innovate with its next release, wireless charging could be its best bet. Imagine being freed from the restrictions of wires, or relying on one charger for your iPhone's entire lifespan instead of repeatedly buying new cables due to Apple's notoriously fragile wires. 
Apple's rumored wireless technology could be a game changer. Rather than resting the phone on a charging pad, which does offer more freedom but ultimately still limits movement, reports suggest the iPhone 8 will come packaged with a transmitter that will charge the device anywhere within a 15-foot range. For Apple's sake, let's hope this is true, because convenient technology of that sort would almost guarantee smashed sales records. 
5. Are iPhones truly done with the headphone jack?
The elimination of the headphone jack within the iPhone and iPhone 7 Plus caused a stir. Too many people rely on 3.5 mm analog audio across a variety of devices, and Apple took a big risk nixing the input. Is there any chance Apple will walk back on its "courage" and embed the headphone jack in the iPhone once again?
The answer: probably not. Apple took a huge gamble with that decision and it might look foolish if the company were to renege. But more importantly, Apple is seriously invested in wireless technology — and we're not just talking about chargers. The newly released AirPods are a good indicator of Apple's desire to eliminate wires from our lives. It's likely the cancellation of headphone jacks is just the beginning.