Thanksgiving dessert recipes 2016: Pies, cookies and cakes you'll want to save room for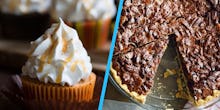 You've stuffed yourself with turkey and creamed spinach and mashed potatoes and gravy and hey, another scoop of mashed potatoes, and you can already feel the waistline of your pants seriously stretching but, wait — dessert!  
While a lackluster store-bought pie is nothing to save room for, these homemade treats will convince you hold off on that second round of sides (okay, at least until your midnight snack) and save a little stomach space for these Thanksgiving desserts. Here's what to make. 
Pumpkin dessert bars
Think pumpkin pie, but caked up and yes, so much easier to make. Get the recipe here.
Mini puff pastry apple roses
These easy-to-make apple desserts look deceivingly complicated, and therefore impressive, and it will feel oh so rewarding to dig into one after dinner. Get the recipe here.
Vegan pumpkin sugar cookies
If you live for stuffing your face with cookies at pretty much any time of day (guilty), you're going to want a round of these ready after Thanksgiving dinner. Tip: Save some dough for a fresh round of cookies to eat after your leftovers meal tomorrow. Get the recipe here.
Chocolate chip pecan pie
If there's one way to make pecan pie better, it's to add chocolate chips. Do it. Get the recipe here.
Pumpkin pecan yogurt bundt cakes
These sweet bundt cakes capture all the flavors of fall, and yes, you can keep an entire cake to yourself if you use a mini bundt pan. Get the recipe here.
Pumpkin spice latte cupcakes
Before you even wake up with a post-Thanskgiving PSL, get all the flavors of the holiday drink in a baked treat topped with whipped cream! Get the recipe here.
Brown sugar pie
The best part of any pie is the sugary part, so why not make that most of it? Good luck trying not to eat this entire sugar-filled pie in one night. Get the recipe here.
Simple chocolate cake
No matter what the occasion, there's literally nothing better than a good chocolate cake. And yes, there's always space in your stomach for a slice. Get the recipe here.
Gluten-free pear cranberry crisp
This dessert is loaded with seasonal fruit so you can argue that it's really a healthy way to stuff your face after the big feast. Get the recipe here.
Sweet!