"Colored" and "whites only" signs placed above water fountains at Florida high school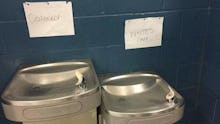 School district officials are investigating after papers signs saying "Colored" and "Whites only" were found above two water fountains on Thursday at First Coast High School in Jacksonville, Florida. 
"The signs placed on top of the fountains are completely unacceptable and will not be tolerated by our school district," district Superintendent Nikolai Vitti told the Florida Times Union. "We are investigating the matter to determine who is behind the action to provide the appropriate discipline and counseling."
A photo of the racist and threatening labels was posted to the school's Facebook page by Maurice Ellis, who is not a parent at the school. "Things that bother me I let people know about it," Ellis told the Times Union. "Others may comment on it and we can have a dialogue. It's an open forum."
It's not clear whether the signs, which reference the racist policies of Jim Crow-era America, were meant to be a threat to students of color — but their meaning is certainly threatening. 
Since the presidential election on Tuesday, a rash of hateful acts have been reported at schools across the country. A Latina student came home to her dorm Thursday to find her roommate had built a "wall" in the middle. At the University of Michigan, a student wearing a hijab was reportedly threatened Friday by a man who told her to remove it or he would set her on fire.
CNN reported on Monday that the Southern Poverty Law Center had recorded at least "300 cases of hateful harassment or intimidation" in the five days since the election. During an appearance on CBS' 60 Minutes Sunday night, President-elect Donald Trump directly addressed any of his supporters who might be committing these acts of hate, saying, "Stop it."