Anticipating Kanye West's 2020 presidential platform, based on his past lyrics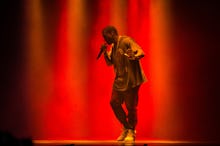 Kanye West has confirmed: He's serious about running for president of the United States in 2020.
During a recent interview with BBC Radio 1, West renewed the White House ambitions he first revealed during his acceptance speech for the video vanguard award at the 2015 MTV Video Music Awards. In conversation with DJ Annie Mac, West elaborated on his desire to run, saying it's a natural extension of his desire to make a positive difference in the world.
West's timing is extremely opportune. With Donald Trump expected to lead the United States for the next four years, by the time West's time comes there will be a precedent for entertainers with no political experience jumping straight to the top of the executive ladder. Somewhat like Trump, West hasn't offered a full picture of what his policies actually would be, but he hasn't exactly been shy about sharing his views in the past.
"When I talk about the idea of being president, I'm not saying I have any political views. I don't have views on politics, I just have a view on humanity, on people, on the truth," the Grammy Award-winning artist told Mac. "If there is anything that I can do with my time and my day, to somehow make a difference while I'm alive, I'm going to try to do it."
Here's what we think a Kanye presidential platform could look like based on his past lyrics.
West will have a diplomatic and non-interventionist foreign policy.
Bring our troops back from Iraq, keep our troops out of Iran
In the remix version for the 2010 hit "Power," West dropped some bars about America's everlasting wars in the Middle East and other Muslim-majority countries. We see a patient Yeezus, cautioning against a hawkish intervention in Iran and North Korea. He also gives a shoutout to the beleaguered Muslim community with a perfect pronunciation of the Arabic greeting and a funny line about bacon.
The musician would likely work to dismantle the private prison industrial complex.
Meanwhile the DEA
In "New Slaves," West slams the prison industrial complex and the institutional racism that has imprisoned so many people of color for non-violent drug offenses. He calls out the Corrections Corporation of America and the Drug Enforcement Agency for unjustly profiting off the bodies of black men and women. West also criticizes the school-to-prison pipeline in "Power" with these lines: "The system broken, the school is closed, the prison's open / We ain't got nothing to lose, motherfucker, we rollin'."
West is in favor of implementing a livable minimum wage. 
Before you ask me to go get a job today
West refuses to work for a unlivable minimum wage in "Heard 'Em Say." He similarly begrudges having to work the "grave shift" where he doesn't "make shit" in "Spaceship." President West wouldn't likely force that experience on anyone else.
Yeezus favors fair trade. 
Sierra Leone connects to what we go through today
Before producing Late Registration, his second studio album, West thoroughly researched the grotesque reality of conflict diamonds and the children who died because of them. What he learned moved him to write and produce "Diamonds From Sierra Leone." In the track, he rips into the diamond industry, not mincing any words on the abuse and torture West African children have to endure for the luxury of the world's upper class.
West would work to put an end to Chicago's gun violence.
And I'm from the murder capital where they murder for capital
Many of West's lyrics deal with the issues affecting his home town of Chicago, a city with one of the highest rates of gun violence in the country. In "Murder to Excellence," one of the more socially conscious tracks off West's and Jay Z's collaborative album Watch the Throne, West provides an emotional narrative of "black-on-black murder" and police violence in Chicago. West also pays tribute to the young chairman of the Illinois Black Panther Party, Fred Hampton, who was assassinated during a Chicago Police Department raid in 1969.
West would work to halt the ongoing police killings of black men and women.
I don't give a fuck, I don't give a fuck
West has not been shy about discussing race and police brutality in his work and public appearances. In "All Your Fault," off of Big Sean's Dark Sky Paradise, West goes off on the lack of accountability for police officers unjustly killing black men and women. He delivers the same message in The Life of Pablo's "Feedback" with the lines: "Hands up we just doing what the cops taught us / Hands up we just doing what the cops taught us / And then the cops shot us."
West wants to make college more affordable.
Sittin' in the hood like community colleges
In College Dropout's "We Don't Care," West tackles the skyrocketing price of college tuition and how it has barred many low-income families and communities of color from accessing higher education. Similarly, on Graduation, the final chapter in West's three-album education saga, the rapper critiques the higher education system for failing to prepare young men and women for the American workforce. These verses are the bitter truth: "Good morning, look at the valedictorian / Scared of the future while I hop in the DeLorean / Scared to face the world, complacent career student / Some people graduate, but be still stupid."