After reports Donald Trump requested security clearances for his children, denial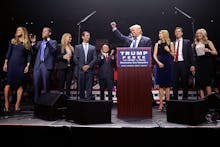 Republican President-elect Donald Trump requested security clearances for some or all of his children and his son-in-law Jared Kushner, CBS and NBC reported on Monday evening, triggering the Trump transition team to issue a denial.
Media reports immediately questioned whether seeking security clearances for Donald Trump Jr., Ivanka Trump and Eric Trump, who the president-elect has said will be in charge of running his business interests via a questionably ethical "blind trust," would constitute a conflict of interest.
A Trump transition team official denied the claims in an email forwarded to Mic, saying the president-elect did not request the clearances and that the paperwork to do so has not been filed.
"That's not something I'm expecting right now," they added.
While federal nepotism rules ostensibly prevent Trump from appointing any of his family members to positions in his administration, the president could request a security clearance waiver on the basis of the children operating as unofficial, unpaid advisers to the president. Since the entire security clearance system operates via executive order, there are few checks on Trump changing elements of that system to enable the clearances after his inauguration.
Thus the Trump children would essentially be acting as top-level advisers to the president on matters of national security, and it is unclear whether their influence would be subject to external oversight.
A blind trust would require the president-elect to put all of his business interests under the control of an independent manager, not people with a direct connection to his administration.
Over the weekend, Trump surrogate, potential future administration official and former New York City Mayor Rudy Giuliani argued the president-elect may not be able to put his businesses into a traditional blind trust managed by his children because that would "basically put his children out of work."
The Trump children would then have to "start a whole new business and that would set up ... new problems," Giuliani added.
Nov. 14, 2016 at 9:37 p.m.: This article has been updated.