Stephen Bannon, Donald Trump's new chief strategist, endorsed by KKK, neo-Nazis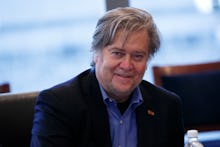 President-elect Donald Trump's decision to appoint former Breitbart chief executive and Trump campaign CEO Stephen Bannon as chief strategist to his administration has far-right extremists excited.
Bannon, whose tenure at Breitbart oversaw the site's transition to a more openly hostile and racially inflammatory tone, has referred to the news site as "the platform for the alt-right," a movement typically associated with white nationalism. On Monday, CNN reported former Ku Klux Klan leader David Duke believes the appointment is "excellent."
"I think that anyone that helps complete the program and the policies that President-elect Trump has developed during the campaign is a very good thing, obviously," Duke told CNN's KFile. "So it's good to see that he's sticking to the issues and the ideas that he proposed as a candidate."
Duke added, "You have an individual, Mr. Bannon, who's basically creating the ideological aspects of where we're going. And ideology ultimately is the most important aspect of any government."
He was joined in his endorsement by Rocky Suhayda, chairman of the American Nazi Party, who wrote in an email to CNN: "I must admit that I was a wee bit surprised that Mr. Trump finally chose Mr. Bannon, I thought that his stable of Washington insiders would have objected too vociferously. Perhaps The Donald IS for 'REAL' and is not going to be another controlled puppet directed by the usual 'Wire Pullers,' and does indeed intend to ROCK the BOAT? Time will tell."
Finally, white nationalist National Policy Institute leader Richard B. Spencer told CNN, "Steve Bannon might even push Trump in the right direction. So that would be a wonderful thing."
Bannon has referred to the racist elements of the alt-right movement as outliers, telling Mother Jones he sees its zeitgeist as "more identity toward a nation-state or their people as a nation."
Trump's team has sought to downplay the connections between Bannon, Breitbart and racist ideologies.
Fellow Trump campaign adviser Kellyanne Conway said in a press conference she was "personally offended that you think I would manage a campaign where that would be one of the going philosophies," according to the New York Times. She added Bannon was qualified on the merits of his Harvard education, Navy background and status as a "brilliant tactician."