Twitter unveils new anti-abuse tools that could help combat harassment in the Trump era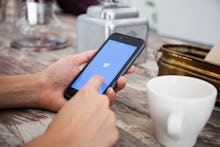 Twitter might've just made Melania Trump's job as an anti-bullying advocate a little bit easier. 
On Tuesday, the company announced updates to its policy and product that aim to make the digital wilderness a little less terrible to navigate. 
These changes couldn't have come at a more vital time.
Hate speech and intimidation have been proliferating the country following Trump's win. Hate crimes against Muslims have reached the highest numbers since 9/11, according to the FBI. This abuse is not isolated to the physical world: An Anti-Defamation League report last month proved that anti-Semitic trolls swelled on Twitter during the election. 
Twitter is working to fight it. "The amount of abuse, bullying and harassment we've seen across the internet has risen sharply over the past few years," Twitter wrote in a blog post on Tuesday. "These behaviors inhibit people from participating on Twitter, or anywhere. Abusive conduct removes the chance to see and share all perspectives around an issue, which we believe is critical to moving us all forward. In the worst cases, this type of conduct threatens human dignity, which we should all stand together to protect."
Twitter's plan to fight harassment
Internal changes: One effort Twitter is making to help curb harassment on its platform is behind-the-scenes: It has retrained all of its support teams on its policies as well as provided them with "special sessions on cultural and historical contextualization of hateful conduct." The teams will also have an "ongoing refresher program" and improved internal tools to help deal with the flood of abuse reports. 
A Twitter spokesperson said in an email that these training sessions involve educating the support teams on the types of prejudice, persecution and atrocities certain groups have faced. The effectiveness of the support teams was also tested through hypothetical scenarios. 
Mute feature: As for the users, Twitter announced that you will soon be able to mute specific words and phrases that may pop up in your notifications. Users will also soon be able to mute entire conversations altogether. 
"This is a feature we've heard many of you ask for, and we're going to keep listening to make it better and more comprehensive over time," the blog post read. 
Mic previously reported on the possibility of Twitter rolling out a mute feature. While any additional tools to wield against hate speech are a good thing, we argued, a mute feature is not a solution to rampant abuse. It puts the responsibility of silencing harassment on the targeted user, and it tasks them with the nightmarish undertaking of creating a list of every offensive name or phrase a troll might spew at them — including typos and purposeful misspellings. To some trolls, circumventing the mute feature may just seem like an opportunity to get more creative with their language. 
Better reporting tools: Twitter also announced that it is giving users "a more direct way to report" hateful conduct on the platform both for themselves and for others as they see it happening. The blog post said that this feature will help processing the reports and also "reduce the burden on the person experiencing the abuse" while fostering a community that looks out for each other.
It is refreshing for a tech company to admit to its pitfalls — in this case, Twitter, a company that has been criticized for its inability to properly handle harassment on its platform, confesses that it's had some trouble wrangling the trolls, that it can't solve the problem overnight, but that it's trying. 
"We don't expect these announcements to suddenly remove abusive conduct from Twitter," the blog post reads. "No single action by us would do that. Instead we commit to rapidly improving Twitter based on everything we observe and learn."
As the white supremacist movement spreads throughout the internet, freshly empowered by the hateful rhetoric spewed by the newly elected people in power, it's more critical than ever for tech companies to acknowledge their shortcomings and continue to fight against online harassment.
A mute feature isn't an abuse killer, but it's marginal improvement, and educating team members on harassment is a major leap toward figuring out better tools. The product updates will roll out to all users in the coming days.