Ashley Graham gets her very own Barbie doll — thick thighs and all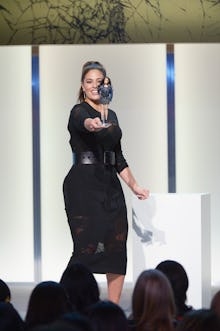 Ashley Graham has had one hell of a year. 
She made history as the first plus-size model and woman on the cover of Sports Illustrated, and then again as the first plus-size model on the cover of Maxim. She was also one of the first plus-size women to appear as a video vixen in a music video, and was named the newest face of H&M. 
Now, just as 2016 is coming to a close, she's getting her own Barbie modeled to her likeness — thick thighs and all.
Graham was presented the doll at Glamour's Women of the Year event on Monday evening.
"Come on Barbie, let's go party!!!" Graham captioned a video showing off the doll. "Thank you to my new and incredible Mattel family for this honor!" 
"Ashley Graham is a trailblazer who inspires every woman – and girl – to see the beauty in herself," Lisa McKnight, general manager of Barbie, said in a statement. "This year Barbie has evolved to be more inclusive by adding three new body shapes into the line and we hope our relationship with Ashley will further make an impact." 
According to the Hollywood Reporter, Graham, who's a size 14, was incredibly hands-on throughout the project, ensuring that the doll was wearing something she'd wear — a sparkly dress with a denim jacket over top — and was even pushing for the doll to have cellulite. Although cellulite is difficult to render in plastic, Graham did make sure of one detail that would make the doll especially hers. 
"It was important that the Barbie resembled me as much as possible" Graham told the Hollywood Reporter. "The thighs touching was one way to show young girls that it's okay for your thighs to touch, despite society saying that a 'thigh gap' is more beautiful." 
Notably, Barbie's grown more inclusive within the past year, launching three new body shapes for its dolls back in March, as well as a slew of new skin tones and hair textures. So now, Graham's giving this new curvy doll a bit of a celebrity makeover. 
Though there is one caveat. Since Graham's doll is the latest member of Mattel's Sheroes collection, a capsule line that's also featured women like Ava DuVernay, Zendaya and Misty Copeland, the doll is unfortunately not for sale, but there is still hope. Hugely popular Sheroes dolls like Misty Copeland's have produced such hype that they will now be sold for the holidays. 
So, keep your fingers crossed.