'The Bachelor': Get a first look at the season 21 contestants vying for Nick Viall's heart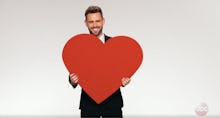 Love has eluded Nick Viall three times over. The software-sales-executive-turned-reality-TV-star came in second on two separate seasons of The Bachelorette, then failed to find love on the most recent season of Bachelor in Paradise. But Nick is hoping the fourth time will be the charm: He's ABC's next lead man on the 21st season of The Bachelor.
A teaser trailer tweeted out by the Bachelor Twitter account offers our first glimpse at Nick's season — and the 30 single women vying for his heart. The emphasis so far is definitely on Nick's desirability; forget the three-time loser of the past! Nick is sexy now!
While certainly an intriguing choice, Nick's previous Bachelorette villainy suggests some reasons to question whether he's really the new Bachelor for the right reasons. Yet he may actually be the best choice possible. The most recent seasons of The Bachelor and The Bachelorette revealed some significant problems with the show's formula. In valuing the romance (and the often boring contestants that brings), The Bachelor sacrificed its love of drama.
Nick is not short on personality, and this trailer is a good hint of what's to come. A season that's all about him may not be the most traditional Bachelor installment, but it may be just the kind of absurdity a 21-season-old series needs to liven things up.
Watch the teaser trailer below.