Columbia University suspends wrestling team over bigoted text messages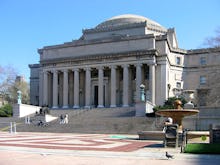 What at first may have seemed like a problem unique to members of Harvard University's men's soccer team — who had been circulating "scouting reports" ranking female athletes on attractiveness for years — was soon found to be a problem for the college's cross-country team, too. Now, fellow Ivy League institution Columbia University has discovered similarly troubling attitudes within its own athletic ranks.
University officials are launching an investigation into a series of sexist, racist and homophobic texts that have been circulating among Columbia's wrestling team for years. The messages were first been uncovered by Bwog, a campus blog whose staff received screenshots from the 2017 team's GroupMe, a group text-messaging app. The offensive messages date back from 2014 to just days ago and referred to women as, among other things, "a dude in a wig," "fish pussy" and "ugly socially awkward cunts."
One member of the team, the site reported, mused about how the wrestlers could "run the town of any state school" where "every girl begs for the cock so hard." 
"Fuck those feminist bitches," he added. 
According to Bwog, these misogynistic comments got particularly nasty when they targeted black women, in some cases using racial slurs in reference to women with whom they've had sexual encounters.
The administration has suspended the wrestling team pending further investigation.
"Columbia University has zero tolerance in its athletics programs for the group messaging and texts sent by several members of the men's varsity wrestling team," university officials wrote in a statement to Bwog. "They are appalling, at odds with the core values of the University, violate team guidelines, and have no place in our community."
On Monday, roughly 80 Columbia students gathered in the university's fitness center to protest the school's wrestling team, many of them holding signs with the team's text messages printed on them. 
"I would like to see some actual disciplinary action happen, and I know that sometimes athletes end up being protected because of their athletic status," sophomore Nine Zweig told the Columbia Spectator. "I would just like to see them get treated just like any other student would."
In an op-ed for the Spectator, former wrestling coach Hudson Taylor called back to President-elect Donald Trump's "locker room" comments. He wrote that he never imagined Columbia's own locker room resembled the one the then-nominee had referred to when he bragged about grabbing women "by the pussy." He had been proven wrong, he said. 
"Maybe our privilege blinded us," he wrote. "Maybe our vigilance pushed that kind of language out of the locker room and into cyberspace."
Whatever the case, Taylor said it's important for team members to face the consequences of their actions, own up to them and apologize to those they hurt most — and then begin the hard work of addressing their bigotry as part of a broader societal issue.
"They must engage in difficult dialogue and learn to understand how their conduct relates to systemic oppression," Taylor wrote. "They must take responsibility for not only what they have done today but also for the future bigotry they have enabled."