Nicki Minaj remixes mannequin challenge anthem "Black Beatles" into "Black Barbies"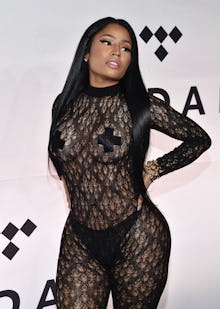 When Rae Sremmurd, Gucci Mane and Mike Will Made-It hit No. 1 on the Billboard Hot 100 with their viral hit "Black Beatles," a glisten of tears could be seen in the eyes of many of the genre's fans. Applause went up all over social media, and it seems no one was prouder than hip-hop veteran Nicki Minaj.
Early morning Tuesday, the queen dropped her own remix of the anthem to celebrate, re-titling it "Black Barbies."
"BLACK BARBIES — why?" Minaj wrote on Instagram sharing the song and explaining what the event means to her. "Cuz 2 Lil black kids got the NUMBER 1 RECORD IN THE COUNTRY & I'm soooooo happy for Mike ... Guwop on the nmbr one record in the country."
She doesn't alter the beat in any significant way, but she adds some new vocal melodies, switching one rotation of the hook to "That boy is a real pussy pleaser," continuing to push her sex-positive music. 
Her pinkness also comes through with a quick Donald Trump jab and a play on her past provocative "wrist icicle" line in one of the verses: "Island girl, Donald Trump want me go home/ Still pull up with my wrist lookin' like a snow cone."
Seeing "Black Beatles" at the top of the charts is a happening worthy of applause. This is Atlanta legend Gucci Mane's first No. 1 in his decade-plus rule of southern hip-hop. Mike Will Made-It has come close to the top of the charts before for his work on Miley Cyrus' "We Can't Stop," which hit No. 2, but he's never summited. 
It's also a rare moment for hip-hop in general, as the genre rarely tops the charts without making significant bows to pop. Part of the lift comes from its serving as an official theme song for the mannequin challenge, which is proving to have more staying power than many foresaw. It's also a damn good hook, and with a Minaj co-sign to boast, expect "Black Beatles"  to stay in radio rotation for months to come.