Finally, Greece is out of recession: Here's why that's good for you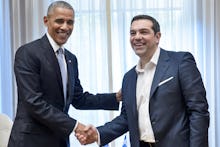 For the first time since the 2008 global recession and subsequent economic implosion of Greece, the country has seen two quarters of growth in gross domestic product, officially ending its 8-year-long recession. 
A muted celebration has ensued as economists and politicians are celebrating the country's growth — with caution: By the end of of 2016, GDP is still expected to have shrunk for the calendar year by 0.3%, then grow by 2.7% in 2017.
If that works out, the expansion would be remarkable, after nearly a decade of contraction and stagnation. 
Greece made history last year by becoming the first country in the developed world unable to repay an International Monetary Fund loan.
This was accompanied by fears of a "Grexit" from the European Union and the possibility of Greece's ending the use of the Euro, the EU's shared currency.
A major fear was of "contagion," or the idea that Greece's economic troubles might spread to other countries — or that a Grexit could inspire other nations to leave.
And all this was compounded by the small country's shouldering a disproportionate burden of the refugee crisis, with inadequate assistance.
What are the implications for the United States?
American investors may have worried Greece's floundering economy could affect global stocks held in 401(k)s and individual retirement accounts. While Greek stocks comprise only a small sliver of international stocks in major indexes, the global economy is highly interconnected, and contagion could be very bad for people saving for retirement.
In other words, Greece's slow recovery is something to smile about.
Plus, there's good news for tourists: The dollar is still stronger than it has been in years compared to both the Euro and the British pound, which means traveling to Europe is relatively cheap right now.