Tinder just announced a major update that will make the app way, way more trans-friendly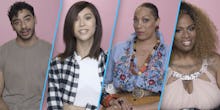 On Tuesday, less than a week after the U.S. elected a president who is expected to dramatically rollback rights for transgender people, online dating platform Tinder announced a major update that will make the app a whole lot better for its trans and gender non-conforming users.
For the first time, users will have the option to identify as more than just "man" or "woman" on the platform — anyone can now fill out their gender identity however they choose and have their gender show up on their profile.
Tinder CEO Sean Rad said in a phone interview on Monday that about 7 months ago, during an internal hackathon, Tinder's engineers came across some troubling patterns within the app — trans users were being harassed with harmful messages and having their profiles reported, sometimes getting people banned from the app just for being trans. It was a problem that clearly needed addressing.
In designing the update, Rad said the company "put together the dream team of the transgender movement," assembling trans activists and artists like Andrea James and Ashlee Marie Preston as well members of LGBTQ rights organizations like GLAAD to consult on the changes and make the app a safer space for trans users.
Zackary Drucker, a trans artist and producer on the show Transparent who worked with Tinder on the update, explained in an email that "Disclosing your trans status is always stressful. Some of the time it works out, but sometimes disclosure leads to discomfort and in worst case scenarios, violence."
"I think that offering us more options to be honest with people about who we are is empowering," she said. "I think that many people will be opened up to the possibility of swiping right on an out trans person, and to have an expanded dating pool. We need more love in the world."
The update, Rad said, has four distinct elements. There's the ability to identify as a gender beyond just "man" or "woman," then there's the ability to display your gender identity on your profile. But there's also built-in education for users about gender diversity. Rad explained that his team "used the real estate space" in the place where users will now go to set their gender identity to educate users.
Perhaps the biggest change to the app, though, Rad said, is also the least visible. "We completely overhauled our algorithms and processes for community management," Rad explained. "We're way better at detecting harassment and banning users who are harassing other users. ... We also invested in a lot of training for our customer support team."
Cracking down on harassment is essential — but it's proved a near impossible task for mega-popular platforms like Twitter and Facebook. Activist Andrea James, who also worked with Tinder on the update, said the harassment came from "a few users who don't like trans people" and who were "misusing Tinder's reporting feature to claim trans people were spammers or harassers."
"The reporting system could not clearly distinguish between legitimate reports and misuse, and some people in my community had accounts automatically disabled due to misuse of the reporting feature," she said. "Others would leave because of the abuse and inappropriate questions and responses they would get from some users."
Transparent actress Trace Lysette, who also consulted with Tinder, said in an email to Mic that being on a dating app while trans doesn't just mean getting hateful messages, it also means getting the same "redundant 'Trans 101' questions" and having to deal with them "over and over and over again."
"I haven't had dating apps on my phone for a while now because of this kind of exhausting communication," Lysette said. "I don't get on an app like Tinder to educate every person I come across, I get on a dating app to meet people who are hopefully parallel to me in thought and provide some sort of enriching stimulation both physically and mentally, and possibly even spiritually." She added that "the hate and ignorance" trans people are likely to experience on a dating app "is probably more abundant than the average cis person would imagine."
Trans activist Ashlee Preston explained in an email on Tuesday that not only did limiting the gender options to "man" and "woman" put trans users in a vulnerable position, it "was also a disadvantage for users who are trans-attracted and made them feel the need to be secretive in their attraction to us."
"When society invalidates our identity as trans people," she said, "they also invalidate the feelings of those that wish to connect with us."
Nick Adams, Director of GLAAD's Transgender Media Program, also worked with Tinder on the update. He said in an email on Monday that the changes send "a strong message that it is not appropriate to report someone or harass them because of their gender identity."
"Tinder has educated its customer service staff to be more aware of this issue," Adams said, "and they have invited users who were unfairly banned in the past back to the platform."
While the new change represents a major step for representation and an important move towards making the app safer for trans users, the question remains: Why did it take so long? Especially considering the possibility that, for some trans users who were intimidated or threatened on Tinder, the update may be considered too little too late to draw them back to the platform.
As Rad explained, "the minute I heard about [the harassment] I wanted to develop [an update] the week after" — but it took months to roll out, he said, in part because the company had gone through "at least" 50 iterations of the update.
In some ways, Tinder's seemingly delayed response to harassment of trans users is a case study in the importance of diversity in tech. When confronted with the suggestion that perhaps these issues would have come up sooner if Tinder had more out trans employees within the company, Rad brought up one former employee who had come out as trans after leaving the company, and did not directly address whether or not Tinder would make an active effort to create more gender diversity within the team. But Rad was quick to say that "we welcome everyone."
It's also important to note that, while the update allows users to identify their gender themselves, users searching for partners can still only choose between "men" and "women." But a more diverse search function could still be on the horizon: "It's definitely something we thought about," Rad said. He indicated that that change would be more likely to happen if users ask for it specifically.
But the update is an important first step, and Nick Adams hopes other dating apps follow suit. "I hope that all dating apps will acknowledge, as Tinder does in this update, that some trans people want their gender identity to be front-and-center on their profile because it's important to them that a potential match knows this information before they even start communicating," he said.
Tinder's new update is perhaps all-the-more meaningful considering the results of last week's election, which sent a torrent of fear through the trans community, causing a spike in calls to crisis hotlines as activists brace for the possibility that rights will be severely rolled back under a Trump administration.
"Especially right now, sending a message of inclusivity is important," Rad said. When asked how he would respond to any anti-trans users who might threaten to leave the app after the latest update Rad's message was clear. "If someone doesn't want to use Tinder, then don't use Tinder."