'Pokémon Go' player at Ohio's Capital University allegedly assaulted by Trump supporters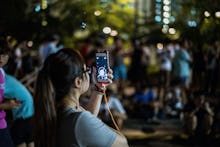 Brittany Daughenbaugh, a student at Capital University in Columbus, Ohio, was out playing Pokémon Go on the night of Nov. 9 when she was allegedly attacked by two Donald Trump supporters, the Columbus Dispatch reported.
The attackers were allegedly white men in their late teens or early 20s. According to the Columbus Dispatch, Daughenbaugh was punched in her arm and face, fell down and was knocked unconscious when her head hit the pavement.
On Nov. 11, Daughenbaugh wrote about her experience in a Facebook post, along with photos of her bruised face. "The one phrase I vividly remember is a whispered 'Don't you worry, honey, President Trump says this is OK,'" she wrote.
The Columbus Dispatch reported that one of the men wore a sweatshirt promoting "Trump-Pence," while the other man wore a "Make America Great Again" hat.
Another Capital University student reported receiving a homophobic note with anti-gay slurs and the line "Trump will get you! #MakeAmericaGreatAgain" after the election.
On Sunday, in a 60 Minutes interview, Trump addressed the supporters who have harassed women and minorities in his name. He told them to stop it.
"I know I cannot directly link my attack to Trump," wrote Daughenbaugh. "And I know that not all Trump supporters are racist, sexist, xenophobic, homophobic bigots. Some of the people that I love the most support Trump. HOWEVER, you cannot support only one part of him without supporting the whole package."
"Thousands of minorities ... have been beaten, threatened, broken and driven to the point of tears, because when you give one bigot power, when you elect them regardless of the horrible things they have done in their past, you give all of the bigots power, you elect that all of those awful things are civil and normal and allowed," continued Daughenbaugh, who is white.
The Columbus Dispatch reported that police are treating Daughenbaugh's complaint as legitimate, and that the investigation is continuing.