Android vs. iPhone: These smartphones could crush Apple — but nobody's talking about them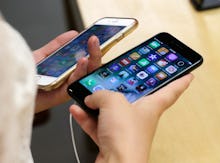 Apple's iPhone is a major player in the smartphone game. But, depending on what features hold the most priority for you, there are alternatives that out-perform the cult-favorite device. While everyone's been talking about the iPhone, lots of other impressive smartphones have been released recently. From customization options and better battery life to enhanced privacy, here are five smartphones that could potentially replace your iPhone if you're ready for a change. 
1. LG G5 Modular Phones
Modular phones made headlines because they offer consumers the freedom to customize their handset with specs that fit their needs. Modular phones are essentially user curated. That's exactly what the LG G5 offers — the ability to piece together modules to create a custom phone. The phone is equipped with a Snapdragon 820 processor and 4GB of RAM that runs on Android Marshmallow. Aside from being a modular device, LG is competitively priced. The company also offers free screen replacement for select consumers. And there's the fact that consumers won't have to play "keep up" with the latest iPhone model.
2. Ulefone Power
If battery life is an important factor in your choice of smartphone, then the Ulefone Power might be the phone for you. The smartphone comes with a 6,050mAh battery. In comparison, Apple's iPhone 7 has a 1,960mAh battery. The phone also offers a quick charge feature where a five minute charge provides two hours of talking time and a 30 minute charge provides one day of normal phone use. Considering the size of the battery, the phone is relatively compact.
3. Samsung Galaxy S8
It's been a rough year for Samsung after the company's Galaxy Note 7 was recalled and discontinued. Its next phone debut — the Samsung Galaxy S8 — will reportedly feature a Siri-like digital assistant, offer a 4K resolution of 3,840x2,160 pixels, have a pressure-sensitive display, be 90% screen, have two rear cameras similar to the iPhone 7 Plus and might be missing a headphone jack like the iPhone 7. According to the Wall Street Journal, the South Korean company may launch the device in April.
4. Silent Circle Blackphone 2
For those who value their privacy, the Silent Circle Blackphone 2 offers something most popular smartphones on the market cannot: security. Encrypted voice, text and video chat are built in. The second generation of the Blackphone, released in Sept. 2015, offers a new hardware platform, a revamped operating system and more security than its predecessor. As for a Blackphone 3, the company revealed last year that it is working on a new model but Forbes reports the company is having some financial issues that leaves its future murky.
5. YotaPhone
Why stick to one screen when you can have two? That's exactly what the YotaPhone offers: an LCD screen in the front and an e-ink screen in the back. The dual-screen phone allows users to customize what they want to view on each screen and offers hands-free messaging. According to industry rumors, a YotaPhone 3 is on the horizon, offering the same dual-screen phone with a better price. The YotaPhone is unfortunately not yet available in the U.S..