Host the ultimate Thanksgiving 2016 dinner with these recipes, side dishes and more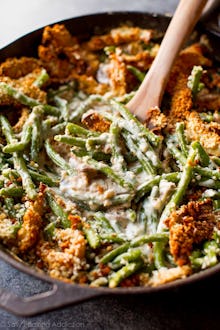 Thanksgiving is Thursday, November 24 and it's time to get cooking. 
You've locked down your turkey recipe (or catered turkey, it's fine) and now you just have the rest of the meal to plan. Whether it's your first Thanksgiving as a host or you've spent a lifetime helping prepare the most important meal of the year, here's your ultimate guide to throwing a Thanksgiving dinner your guests will never forget. 
How to cook yams for Thanksgiving dinner  
Yams, which may be mislabeled by your local grocery store as sweet potatoes, are, like sweet potatoes, tuberous root vegetables, but also its own veggie. A yam is not a type of sweet potato and vice versa. Like potatoes, yams come in white, purple and orange varieties, but are starchier and also harder to find in the United States, as they are native to Africa and Southeast Asia. Sweet potatoes may win the tuber beauty contest — you can identify a true yam by its fuzzy, rough skin and general lack of attractiveness in comparison with a sweet potato. But why not give the ugly sibling some much-needed care and affection this holiday?
The good news is that yams and sweet potatoes are interchangeable in most recipes, so if you have a favorite sweet potato recipe, you can sub in yams this year — or go half and half. If you're feeling lazy, you can even just microwave your yams for a quick side. The bottom line: Don't freak if you can only find one of the veggie varieties. Be sure to share your fun yam facts at the table. 
Sweet potato mashed potatoes for Thanksgiving dinner
Mashed potatoes are great and all, but you probably don't need us to tell you that making anything sweet is an instant improvement. Go for the sweet potato mashed potatoes this year (okay, a side of regular mashed are fine too). And if you want to combine sweet and savory in one dish, go for this garlic sweet potato mash. Get the recipe here.
How to make cranberry sauce for Thanksgiving dinner
Skip the canned cranberry gelatin this year and make your own cranberry sauce. It's so easy and seriously tastes so much better. For naturally-sweetened cranberry sauce, all you need is a bag of cranberries, honey or maple syrup and some water. That's it! You'll cook the cranberries in a sauce pot over medium heat for about 10 minutes, stir in any added flavors (citrus zest, nuts, cinnamon) to your liking and voila, cranberry sauce! It's easier than making gravy. Get the recipe here.
How to make Gluten-free gravy
If you have a gluten intolerant guest, be sure to let them in on the gravy by forgoing the flour and using alternative thickener, like tapioca, to make your gravy. You can also make a vegan, gluten-free gravy to accommodate all eaters! It's so savory and tasty (yes, even on veggies) that no one will even guess the meat is missing. Get the recipe here.
A Thanksgiving green bean casserole recipe that's seriously dope
PSA: You need green bean casserole at your Thanksgiving dinner. Yes, need. While the rest of the year green beans can be considered a healthy side, this one meal lets green beans live their best life, coated in creamy sauce and covered in crunchy topping. While the French's recipe is a classic, go for a completely homemade green bean casserole recipe this year to wow the dinner crowd. Expect no leftovers. Get the recipe here.
Vegan Thanksgiving recipes
In 2016, you know it's likely you'll have a vegan or vegetarian at your Thanksgiving dinner table. Or you know, someone who'll watch a Sarah McLachlan ASPCA commercial and decided to give up all animal products minutes before entering your Thanksgiving dinner. Just go with it, and have a vegan option ready. Check out our favorite vegan Thanksgiving recipes and Thanksgiving vegan desserts or make this super simple creamy fall soup in acorn squash bowls, to kick off the meal with a seriously impressive start. Get the recipe here. 
Happy Thanksgiving!