After election, thousands in NYC offer to commute with those targeted by Trump's campaign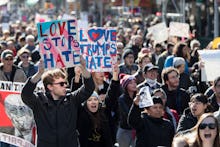 On Nov. 10, two nights after Donald Trump became president-elect of the United States, a friend reached out to Kayla Santosuosso, deputy director of the Arab American Association of New York, with a sobering request. A Muslim woman in Manhattan's Harlem neighborhood had been harassed on the subway both days since the election, and now she wanted a partner to ride the train with her, the friend explained. Could Santosuosso help find someone?
Santosuosso put out a Facebook post that night, tagging some friends who lived in and around Harlem. The Muslim woman ended up finding a commuting partner through one of her contacts, but people continued messaging Santosuosso with offers to accompany the woman — or anyone else who may need a commuting partner. By the time midnight rolled around, 20 to 25 people had volunteered. It was late, so instead of responding to all of them, Santosuosso created a Google form.
"This form is for New Yorkers who are willing to accompany their neighbors on their commute in light of recent harassment and threats toward people of color, LGBTQ folks and Muslims," she wrote. "A Trump presidency may also mean harassment toward women and people of disabilities, and we want to provide accompaniment wherever is needed."
Santosuosso checked her computer around noon the next day.
"By time I sat down, it had 1,200 responses — and it was going up every three to five seconds," she said Wednesday.
The sign-ups have continued to roll in by the thousands, from neighborhoods all across New York City — and beyond. Around 7,000 people from New York signed up through the Google form, with hundreds more reaching out to Santosuosso from out of state. 
"Everyone is feeling desperate to find a way to get involved," she said.
But there was a problem: The number of volunteers was heartwarming, but it was far too high. Santosuosso had no way of verifying everyone's identities, knowing their real intentions or ensuring they had basic training to deal with harassment. It also dwarfed the very small handful of people who'd used the form to request accompaniment.
"Clearly, I was in over my head at even 1,200," Santosuosso said. "At the same time, I was totally moved by the amount of energy and the willingness show up and take what I believe is riskier action than people were willing to take before the election."
Now, it's up to Santosuosso and her colleagues to figure out what to do with a list of 7,000 New Yorkers keen on combatting hate. Instead of having the names sit idly on an online registry, she said, "We want to figure out how to build the infrastructure for actually being able to mobilize when there's a need or an ask or a crisis."
That might mean organizing trainings in bystander intervention, de-escalation and basic self-defense, she said. 
"Instead of you waiting for someone to call you for accompaniment, you could make sure you're trained and looking out — every time you're on a train, looking out to see if there's potential harassment going on," she said.
The impulse to train people in dealing with harassment isn't unwarranted. Trump's plans to ban Muslims from entering the U.S., deport or incarcerate millions of undocumented immigrants and build a wall along the Mexican border are scary enough. The spread of xenophobia is a concern both at home and abroad, with a cartoon by a French Muslim woman on how to help someone being targeted by an Islamophobe going viral in January. But Trump's victory further emboldened bigots nationwide to eschew political correctness and make their biases known — too often in the form of hate-fueled attacks.
A slew of hate crimes has hit New York City since the election, despite Mayor Bill de Blasio's promise to protect New Yorkers in the wake of Trump's win. On the morning after Election Day, Muslim students at New York University's Tandon School of Engineering found Trump's name scrawled across the door of their prayer room. 
"They didn't have to say 'go home Muslims,'" Sana Mayat, an NYU senior and vice president of the Muslim Student Association, told the New York Daily News. "They just needed to write 'Trump' on it and they knew exactly what they were doing,"
Finding the graffiti "was one of the first days of genuinely being afraid," Mayat said. "It felt brave to walk out wearing a hijab that day."
On Nov. 12, at a bistro in Brooklyn's Boerum Hill neighborhood, a Trump supporter allegedly punched a woman in the face after arguing with her about the election. 
On Nov. 13, a swastika was spotted spray painted on the sidewalk of a section of Brooklyn's Crown Heights neighborhood with a high Jewish population. 
"Acts of violence in our beautifully diverse city will not be tolerated," de Blasio tweeted, linking to a photo of the swastika. "We are all better than this." The mayor also urged people to report these kinds of incidents to police.
Meanwhile, thousands have taken to the streets of New York to protest Trump's impending presidency. 
Santosuosso's path forward may not yet be clearly mapped, but she knows her ultimate goal. 
"These bursts of energy are great," she said, but it's going to take more than safety pins, Google form sign-ups and other public statements of solidarity to keep people engaged throughout Trump's presidency. 
"This sense of urgency we're seeing in the first couple of days after the election — what we want to do is really try to sustain that over the next four years," she said.