Conan O'Brien, the "Clueless Gamer," and Elijah Wood review 'Final Fantasy 15'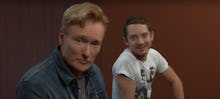 If you think it's funny to watch someone who doesn't play video games fumble awkwardly with a control pad, Conan O'Brien regularly puts on a segment you ought to keep an eye out for.
"Clueless Gamer" is the recurring segment on Conan in which the host reviews an upcoming video game with a celebrity guest. This time Conan is playing Final Fantasy 15, and he's playing with Elijah Wood. Hilarity ensues.
Conan can't take Final Fantasy 15 seriously.
Conan always has fun mocking the hottest and newest games in these "Clueless Gamer" segments: In this case he gets angry over having to push a broken-down car... in a fantasy game.
Conan didn't appreciate the story in Final Fantasy 15, and you can find out for yourself whether he's justified when Final Fantasy 15 is released on Nov. 29 for PlayStation 4 and Xbox One.