Samantha Bee explains how hard it is for ISIS to pose as refugees, who need our help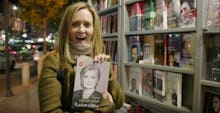 One of the many issues with a Donald Trump presidency is America's approach to the Syrian refugee crisis. As Full Frontal host Samantha Bee explained by comparing Canada's heartwarming approach to accepting refugees to our Republican party's hate-filled rhetoric, it's not going to get better anytime soon. But, per Bee, "maybe we should take a break from shitting our pants to meet the people we're incoherently yelling about." 
For the segment, Bee traveled to Jordan, where there are approximately 635,324 Syrian refugees.
With regard to the refugees, the Republicans have justified a violent refusal to accept or help Syrian refugees by saying that the refugees could be ISIS members infiltrating camps and posing as refugees. However, with the help of an 8-bit, Mario-like animated sequence, Bee explains just how difficult that would be for the terrorist group. 
"Let's pretend you didn't get caught," Bee says, after explaining the exhaustive vetting process. "You still don't get to choose where you get resettled."
Refugees — as well as members of organizations that assist refugees in finding homes and relocating — spoke encouragingly to Bee about the prospect of moving to the U.S. 
"You sound like someone who really understands the principles that America was built on," she tells a male refugee. "You are going to stick out like a sore thumb there." 
"So when this horde of fraudulent rage prophets are out there scaring Americans for votes, remember: These refugees are just like us," Bee adds. "They want to go back to their homes, but they can't." 
You can check out Bee's refugee segment below: