The troubling history of the plus-size section — and where it has to go from here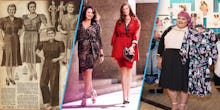 Most often, it is nudged in the back corner. Usually, it is disregarded and ignored. And sometimes, it doesn't even exist at all. It's one of the most reviled, contentious, vexed areas in any store. Say the section's name and images of shapeless purple caftans, black elastic sacks and cheetah-print muumuus would understandably dance around in your head. 
Of course, we're talking about the plus-size section, where women who are a size 14 or larger are forced to shop.
Some have blamed floor space in department stores for the lack of options for women. But regardless of reason, until just recently, plus-size clothes and the plus-size department have largely been forgotten and effectively been treated like exiles in places like Macy's. 
But has it always been this way? 
Currently, it is an area that is still in deep need of reinvention, and plenty of designers and stores are trying their best to help out. In Michigan, for instance, a superstore called Meijer Inc. did away with the section entirely, letting the clothes that happen to be 2XL or larger find themselves among the size smalls. And H&M gave up on its plus-size sections entirely in some stores, moving the clothes to online only. 
"While we offer extended sizes in our plus department, the current shopping experience forces customers to shop in different areas of the store based on what size they wear — and we think it's time to change that," Michelle Krick, a manager at Meijer Inc., told Refinery29. 
So, although the plus-size section still exists, there is great uncertainty surrounding its future. What should a plus-size section look like? Where should it be? Should it exist at all? To answer these questions, Mic decided to trace the history of the section, and the term itself, to try to unravel where it all went wrong. 
In order to do this, we must first talk about the evolution of plus-size clothing, and how that term actually came to be. As it so happens, the term "plus size" was born in the early 20th century and largely popularized by Lane Bryant, a store that wasn't always focused on larger sizes, that, in 1922, began advertising "Misses Plus Sizes," which offered larger versions of clothing in the "misses category," meaning exclusively for women. 
Five years after that, according to the Wall Street Journal, newspaper ads for the chain started to drop the "misses," and showcased their clothing in "plus sizes." The term also grew beyond just Lane Bryant, and into other department stores around the United States. 
"Ads from 1927 reveal that at least two Midwestern department stores, Thompson-Belden in Omaha, Nebraska, and R.F. Herndon in Springfield, Illinois, were selling 'plus-size' coats and dresses," WSJ reported. 
Though there is no real documentation on this, it's safe to say that the first plus-size sections appeared in the 1920s, in either Lane Bryant, which had a storefront in New York City that first specialized in clothes for pregnant women, and/or in these department stores that started to advertise these sizes. 
Throughout these years, the term was solely focused on clothing, and not women themselves. That didn't last for long though, because in 1953, an ad for the brand Korell was printed in a local paper in North Carolina with the line: "wonderful action-plus dress for the plus-sized woman." 
That is one of the first documented times that the modifier switched from just being about clothing and departments to the women themselves. 
As the 20th century ticked on, the term itself, the clothes themselves and therefore the sections began to spread. And as popularity grew, the plus-size section became more powerful, with entire lines and stores now devoted to the woman who wears plus-size clothing. In the United States, Lane Bryant continued to experience success with a highly profitable catalog and stores aimed at plus-size women. 
Perhaps because of Bryant's obvious success, in the '80s and '90s plus-size boutiques started popping up in droves. In 1980, Marina Rinaldi, one of the first high-end clothing brands for plus-size women, launched. Currently, there's more than 300 Rinaldi stores nationwide. There was also the Forgotten Woman (what a name!), a plus-size chain that opened around this time as well, first in New York City and then branching out to about 30 stores across the U.S. In 1999, though, the chain filed for bankruptcy and closed. 
So even then, there was an uncertainty about where plus-size clothes should live, and even how they should look. Look above at the ad from Lane Bryant and it's very obviously not the most fashionable kind of clothes the '50s had to offer. The coats are boxy and unflattering and mostly oversized as well, swallowing the women up. 
Although it's difficult to trace the history of the plus-size section itself, it's safe to say that by the '90s, a stereotype had definitely already been born. 
In a 1991 article in the Sun Sentinel, the author points out that although the plus-size market is one of the fastest-growing markets in the fashion industry, women were still scrambling to find clothes for themselves that were of quality. Clearly, what they were being offered in boutiques or department stores were lackluster. 
Perhaps it was because these plus-size boutiques were completely removed from straight size, trendy stores and clothes, or maybe it was because these plus-size clothes were not getting nearly the attention of garments that happen to be smaller than a size 14, but a stereotype was born that still lives on today. 
As the New York Times reported in 2010: "There have been several efforts to make plus-size clothes more available, but, as the name of the 1980s-era plus-size chain the Forgotten Woman suggested, larger women have usually been relegated to stand-alone boutiques stocked with shapeless purple caftans."
Despite constantly being a growing market through 2010 and beyond, the plus-size section has continuously been ignored. That is, until very recently. Now, perhaps because of the body-positive movement and the popularity of many plus-size models like Ashley Graham who are working for stores with these kinds of sections, people are paying attention and trying to change what the plus-size section actually means today. 
The problem is that no one has a right answer. JCPenney, for instance, gave its plus-size section a makeover, giving it more of a boutique feel than a forgotten landscape. It even brought in one of the only plus-size designers, Ashley Nell Tipton, out there to design a line of her own. 
On the other hand, many stores are shunning the word "plus size" and its section entirely. Meijer Inc. joins online retailer ModCloth as two examples of brands that have erased the plus-size category altogether. "We thought ...  why does our online experience call out 'plus' as a separate shopping experience?" ModCloth co-founder Susan Koger previously told Mic.
In ModCloth's first brick-and-mortar store, there is no plus-size section either, simply racks of clothing stocked with styles from XXS to 4X. 
And although many women who are plus size find it convenient to shop online through outlets like ASOS, which has found great success with its curve department, many women would rather go in-store. 
"Plus size women should have the option to shop IRL if they so choose," journalist Marie Southard Ospina wrote for Bustle. "When you hit up a mall, chances are they have one (maybe two) stores with plus collections ... Maybe it's time they use some of their space for the advancement of size acceptance and equality." 
Obviously, there is no one solution. No one kind of plus-size section or even store is going to work for every woman. Our solution? Listen to the women who are shopping, and give them options. Maybe that's why plus-size sections are so continually reviled. Not many companies are listening to women. 
A revolutionary idea that's always worth reminding companies: Women who happen to be a size 14 or 16 or larger shouldn't have to settle, just like women who are a size 2 or 4 shouldn't have to settle either.