West Virginia nonprofit director fired after calling Michelle Obama an "ape in heels"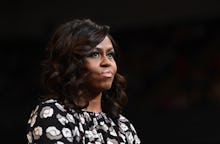 On Monday, Pamela Ramsey Taylor, the director of West Virginia nonprofit agency Clay County Development, was removed from her job for posting a racist message on her Facebook page targeting first lady Michelle Obama.
"It will be refreshing to have a classy, beautiful, dignified first lady in the White House," the post read, according to local news station WSAZ 3. "I'm tired of seeing an ape in heels."
Clay Mayor Beverly Whaling chimed in, commenting on the post: "Just made my day, Pam."
WSAZ 3 reported that Taylor deleted the post and replaced it with an apology on her now-deactivated account. 
In a statement to the Washington Post, Whaling, whose Facebook account has also been deleted, emphasized that her remark was "not intended to be racist at all." She maintained she was just excited about Donald Trump's victory.
"I was referring to my day being made for change in the White House!" she wrote to the Washington Post. "I am truly sorry for any hard feeling this may have caused! Those who know me know that I'm not of any way racist!"
She apologized for her comments "getting out of hand."
On Tuesday, a petition calling for Taylor's and Whaling's termination reached over 129,000 signatures as of this writing. According to WSAZ 3, Taylor — who has already been removed from her position — is filing a lawsuit against those who have "slandered" her.
Following the backlash, the West Virginia Democratic party — of which Whaling is a part — issued its own official apology to Michelle Obama on Twitter.
"These radical, hateful and racist ideals are exactly what we at the West Virginia Democratic Party will continue to fight against," the statement says. "We will continue to fight for a West Virginia that is inclusive, not divisive, and a home for all to feel safe, welcome and protected."
"In a time when we are at a crossroads and many fear the future, we must stand together against hate of all forms," the statement continued.
While the Charleston Gazette-Mail reported that town officials would discuss the incident at a Monday night meeting, there's no word yet on what repercussions, if any, Whaling will face.
The outlet did note, though, that registered voters who make up her constituency could move to recall the mayor via petition.