Steve Bannon's net worth, wives, 'Breitbart News' legacy and other facts to know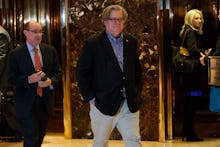 He was a key player in getting Donald Trump into the White House and now he'll have the president-elect's ear as he navigates one of the most controversial presidencies in modern history.
Steve Bannon was named Trump's chief strategist and senior counselor this week, making him one of the most powerful people in Washington. In August, he stepped down from his job as executive chairman of the conservative Breitbart News, but planned to return after the election.
Bannon has been a shadowy figure on the campaign trail, but his new high-profile position in the Trump administration will change that. Democrats have been protesting his appointment with the Twitter hashtag #StopBannon, saying he's a racist, anti-Semitic abuser.
Here's what you need to know about Bannon.
According to CelebrityNetWorth.com, Bannon is worth an estimated $10 million. He has reportedly been married and divorced three times, according to several news outlets.
In August, a 2007 court filing emerged showing that Bannon's ex-wife accused him of making several anti-Semitic remarks, according to NBC News.
Politico reported that in 1996, Bannon was charged in a domestic violence incident with his then-wife in California. The charges were eventually dropped after prosecutors said they couldn't find her, according to NBC News. 
When he announced that he was joining the Trump campaign, Breitbart News did not name a successor. It's unclear who will fill his role at the media company. Bannon is a Harvard Business School graduate, served in the U.S. Navy and worked at Goldman Sachs, according to Bloomberg.