Kanye West album ranking: From (relative) trash to his god-level best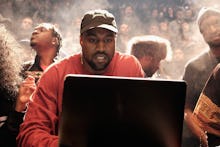 Few rappers, dead or alive, have created as many controversies and divided as many fan bases as the Louis Vuitton don Kanye West. With nearly every album, he's swung wildly from being comfortably in hip-hop's good graces to being the absolute bane of its existence. But even his most contrarian experiments have gained some real character as they've aged (Yeezus, 808s and Heartbreak), like a dark, smoked out scotch.
Considering all the styles and moods Kanye has gone through, from his pink polo backpack days to his current status as the fashion world's no. 1 corrupter, it's difficult to judge his albums next to another from a purely qualitative standpoint. Does Yeezus snarl at the system better than My Beautiful Dark Twisted Fantasy toasts to the assholes? Ranking Kanye albums is more of an act of attempting to imagine how much better the album could be and judging the product against that ideal. 
With that in mind, here's our list of Kanye's albums starting with his biggest struggle production down to his highest achievements:
8. Watch the Throne
Standout tracks: "Otis," "Murder to Excellence"
Standout lyrics: "And I'll never let my son have an ego/ He'll be nice to everyone, wherever we go/ I mean I might even make him be Republican/ So everybody know he love white people." — "New Day"
Though it's often billed as a Jay-Z album, Watch the Throne is a Kanye project from start to finish. Its styles and production — a dark redux of the chipmunk soul of his beginnings, filled with the occasional backpack nod, exemplified in the verse trading of "Otis" — speak to West's golden age infatuation far more than they do to Jay's crack in the kitchen lyrical preoccupations. Despite the amount of star power and some choice verses from each party, the two never really gel. They stay at odds with one another track to track, trying to muscle the other out for each track's best verse ribbon. They constantly make the tracks resonate with deep sociopolitical significance but stay unable to build their songs into something larger. At the end it's hard not to ask: what does it all mean?
7. Late Registration
Standout tracks: "Crack Music," "Touch the Sky"
Standout lyrics: "How we stop the Black Panthers?/ Ronald Reagan cooked up an answer/ You hear that?" — "Crack Music"
Few artists are able to make a sophomore album that truly shines. It's too early for most artists to feel comfortable revolutionizing their sounds, but the restless confidence that drove their debuts often cools a bit. Compared with other artists' sophomore studio efforts, Late Registration is actually top notch. The beats are air-tight, he's got plenty of bouncy radio singles ("Gold Digger" and "Touch the Sky") and some rage-filled deep cuts ("Crack Music"), but too many forgettable tracks slow it down. Don't forget that a 7th best Yeezy album could top the chart of a lesser artist.
6. The Life of Pablo
Standout tracks: "Father Stretch My Hands, Pt. 1," "Pt. 2," "Real Friends"
Standout lyrics: "I said baby what if you was clubbin'/ Thuggin', hustlin' before you met your husband?/ Then I said, 'What if Mary was in the club/ 'Fore she met Joseph around hella thugs?/ Cover Nori in lambs' wool/ We surrounded by the fuckin' wolves'" — "Wolves"
West has found the grail that all of the best artists heading into the latter halves of their careers have tapped to stay relevant: the youth. Miles Davis did it, filling his second quintet with teenagers and 20-somethings; David Bowie listened to Kendrick Lamar and Death Grips to find the sound for his finale Blackstar. For Life of Pablo, West leans on young talent, like Desiigner, Metro Boomin' and Young Thug, to stunning effect on the beat making side of things. But an uneven lyrical showing ("Yeah, I'mma have to laugh Indian/ Cause I'm from a tribe called check-a-hoe") keeps this album from really climbing the ranks.
5. 808s & Heartbreak
Standout tracks: "Heartless," "Paranoid"
Standout lyrics: "In the night I hear them talk/ The coldest story ever told/ Somewhere far along this road/ He lost his soul/ To a woman so heartless" — "Heartless"
It was mocked and dismissed as self-indulgent on the occasion of its release, but it's hard to understate the impact 808s & Heartbreak had on the future of radio hip-hop. Without this emotional, highly synthesized, '80s inspired confessional, we wouldn't likely have ever met Drake, Future or seen Travis Scott's productions begin to spread across the landscape. Now whether or not it's the direction hip-hop should have gone in is another matter entirely. But Kanye saw a sound on the horizon, and realized it beautifully. 
4. Graduation
Standout tracks: "Good Morning," "Flashing Lights," "Can't Tell Me Nothing"
Standout lyrics: "When it feel like living's harder than dying (realize)/ For me giving up's way harder than trying (realize)/ Lauryn Hill said her heart was in Zion (realize)/ I wish her heart still was in rhyming (realize)" — "Champions"
The final part of Kanye West's three-part education saga, Graduation feels a culmination of that era. It rounds out his beats and synths to feel like fuller productions. It takes his chipmunk soul ambitions to their logical peak and shows his songwriting growing far more structurally ambitious. The sound he crafted essentially defined mid-'00s club hip-hop, and some of the biggest hits in that vein come from this record.
3. College Dropout
Standout tracks: "All Falls Down," "Through the Wire," "Get 'Em High" 
Standout lyrics: "We shine because they hate us, floss 'cause they degrade us/ We tryna buy back our 40 acres/ And for that paper, look how low we a stoop/ Even if you in a Benz, you still a nigga in a coupe" — "All Falls Down"
Kanye West came out of the gate on his first album simply raging. From the very first track, his school choir-assisted "We Don't Care" introduced the world to a new kind of humor, an elastic new mixture of hip-hop and soul. It hits on the full range of Kanye styles: the persevering soulful cut ("All Falls Down"), the grimy backpack cut ("Get Em High"), the romance jam ("Slow Jamz") and the open-hearted confessional ("Last Call"). Listening back though, it's often got a little too much cheese for comfort. A lesser artist may have never been able to live down the embarrassments that are "The New Workout Plan" and "School Spirit."
2. Yeezus
Standout tracks: "New Slaves," "Blood on the Leaves"
Standout lyrics: "You see it's leaders and it's followers/ But I'd rather be a dick than a swallower" — "New Slaves"
With Yeezus, Kanye West looked to literally tear to pieces everything he'd built up to this point. He spat in the faces of the fans who loved a good, clean, danceable West production, because Kanye had already seen everything that world and its populous could provide. It couldn't even get him a fair shake from a company (Nike) that he brought so much acclaim to. 
Taking a page out of the gospels of Nine Inch Nails and Death Grips, he spit up raw creative rage and cut, spliced and pressed it together into 10 tracks that just barely cohere. The album's two halves are like two hands only made entirely out of middle fingers — 10 of them, no opposable thumbs. Some Yeezy fans will likely never forgive the artist for bringing such an abomination into this world, but that was part of the point. He separated the fair weather listeners from those who are down to hear music take every shape that can — not simply those radio and the dulling pallets of tastemakers approve.
1. My Beautiful Dark Twisted Fantasy
Standout tracks: "Monster," "Lost in the Wood"
Standout lyrics: "And I always find, yeah, I always find something wrong/ You been putting up with my shit just way too long/ I'm so gifted at finding what I don't like the most/ So I think it's time for us to have a toast/ Let's have a toast for the douchebags" — "Runaway"
Kanye West went in to craft a masterpiece with My Beautiful Dark Twisted Fantasy. He holed up in Hawaii with an all star line-up of talents — Pusha T, Rick Ross, Justin Vernon of Bon Iver, Elton John, John Legend, The-Dream — and they wrote, mixed and mastered like there was no tomorrow. Because for Kanye, if he flopped, there might not have been. Considering the climate of hip-hop at the time, he needed an explosive, undeniable win to reassert his dominion over hip-hop. And he found it. 
My Beautiful Dark Twisted Fantasy is one of the most complete, the most polished and high powered hip-hop releases in history. The only draw back, if there are any, is that it's so transparent about its ambitious to be regarded as a classic. At times its tracks are so glossy they lose some character, but like an air-brushed model, they're still plenty alluring.