Trump's Presidential Plan: The most important pieces of the president-elect's future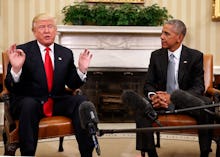 President-elect Donald Trump has an ambitious plan for his first 100 days in office.
In a "contract between myself and the American voter," Trump outlined several things he will immediately tackle on his first day in office.
In his quest to "drain the swamp" in Washington, D.C., Trump says he will propose a constitutional amendment to impose term limits on members of Congress, enact a hiring freeze on all federal workers and impose regulations on lobbyists.
Trump has vowed to renegotiate or withdraw from several trade agreements, including the North American Free Trade Act and the Trans-Pacific Partnership, and enact several trade reforms and climate change agreements.
As Trump figures out who he'll appoint to his cabinet, he has also vowed to undo every executive order passed by President Barack Obama, cancel all funding to sanctuary cities and begin his plan to conduct "extreme vetting" of people entering the United State from countries where terrorist groups operate. He will also nominate someone to fill the vacancy on the Supreme Court.
Since winning the election on Nov. 8, Trump has already softened his views on several of his campaign promises. He's backed down on completely repealing the Affordable Care Act, saying he now intends to keep a few of its policies in place, including the provision to allow coverage for preexisting conditions. 
And in an interview on Sunday with CBS' 60 Minutes, Trump walked back his plan to "lock up" his opponent Democrat Hillary Clinton over her email scandal while she was secretary of state.
"I'll tell you what I'm going to do, I'm going to think about it. Um, I feel that I want to focus on jobs, I want to focus on health care, I want to focus on the border, and immigration and doing a really great immigration bill. We want to have a great immigration bill. And I want to focus on all of these other things that we've been talking about," Trump said.
Trump has also backed away from his threats to not support NATO if they don't pay their fair share of the alliance's defense bill.
"In my conversation with the president-elect, he expressed a great interest in maintaining our strategic relationships. So one of the messages I will be able to deliver is his commitment to NATO and the transatlantic alliance," President Barack Obama said, referring to his trip to Greece and Germany.
What Trump's administration looks like remains to be seen, and what he can get done during the first few month of his presidency is unclear — although he does have the support of a Republican-led Congress.
But Trump, as always, is confident that he will "Make America Great Again."